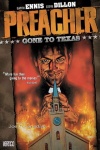 The AMC basic cable network, which has scored a huge hit with its adaptation of the comic book-based The Walking Dead, has announced that it has sealed the deal for another comic book-based live-action TV series—one that will be based on Garth Ennis and Steve Dillon's controversial (and highly entertaining)
Preacher
comic book series published by DC's Vertigo imprint. Seth Rogen and Evan Goldberg, the edgy writing team behind
Superbad, Pineapple Express
, and last summer's
This Is the End,
will write and executive produce. Perhaps even better news for
Preacher
fans is the fact that AMC has hired Sam Catlin, who was the showrunner for the award-winning
Breaking Bad
, to executive produce and function as the showrunner for
Preacher
.
Ennis and Dillon's
Preacher
comics appeared from 1995-2000, and Hollywood has spent the last 16 years trying to figure out how to make a film out of the controversial project, which is sure to create some controversy, especially among religious fundamentalists. At first it was to be adapted into a movie, but in 2006 HBO (
The Sopranos, Game of Thrones
), gave it a shot (see "
HBO to do 'Preacher' Series
"), only to abandon the project two years later (see "
'Preacher' TV Series Defrocked
").
Then the project went back to the big screen in a movie adaptation that was supposed to be helmed by Sam Mendes (
American Beauty, Road to Perdition--
see "
'Preacher Gets Director
"), but that project too was abandoned. Late last year Bleeding Cool reported that AMC had "green lit" a pilot order for the series (see "
'Preacher' Gets Pilot Order
"), but there was no confirmation from the network. Now the project appears to be on very solid footing with Catlin in place as the showrunner. According to
Deadline
, Seth Rogen will be writing and producing, but there are no current plans for Rogen to appear on camera in the new series.
Deadline also reports that Garth Ennis is extremely pleased with the show's creative team and with the news that Preacher is heading to the small screen: "Steve
Dillon
and I are very happy to see
Preacher
being developed for TV, which seems a much more natural home for the story than a 2-hour movie. Obviously it's taken a while, but Ken Levin along with Neal Moritz and his team refused to give up, long after the point when I myself grew skeptical, and their unrelenting enthusiasm for the project has gotten us where we need to be. I'm particularly impressed that Seth Rogen, Evan Goldberg and
Sam
Catlin understand
Preacher
fully-- meaning they get it for what it is, not some vague approximation."
If AMC's
Preacher
series becomes a hit, retailers will have lots of graphic novel ammo--the 75-issue series has been collected in a series of 9 tradepapers, which appeared from 1996 to 2001 as well as in a series of six hardcovers that were published between 2009 and 2012.