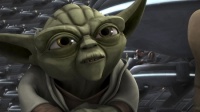 Netflix announced today it had inked a deal with Disney and Lucasfilm to stream the entire
Star Wars: The Clone Wars
saga, including debuting the unaired sixth season, beginning March 7.
The 13-episode sixth season, dubbed "The Lost Missions" will stream along with the entire Emmy Award-winning series, which will include several director's cut episodes not seen on TV. Showrunner Dave Filoni, promised last October that the final season would be available in early 2014 (see "
'Star Wars: Rebels' Villain Revealed
").
Episode teasers include: a clone trooper discovers a shocking secret, Anakin Skywalker's closest relationship is tested to its limits, and Master Yoda discovering something while investigating the disappearance of a Jedi that could forever change the balance of power in the galaxy.
Dark Horse also recently announced a
Clone Wars
comic miniseries that will wrap up the Darth Maul storyline that never made it to full production when
The Clone Wars
was abruptly cancelled (see "
The Last 'Clone Wars' Comics
"). So Netflix subscribers will have plenty of time to binge watch the last season, and then pick up the comic beginning in May.