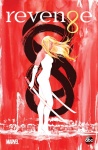 Marvel Entertainment and ABC Studios have announced an original graphic novel based on ABC's TV series
Revenge.
Revenge: The Secret Origin of Emily Thorne
will release on September 3rd.
The 112-page hardcover is written by
Revenge
series writer Ted Sullivan and Erica Schultz (
M3)
, with art by Vincenzo Balzano, and cover art by Dustin Nguyen (
Batman, American Vampire: Lord of Nightmares
).
ABC's
Revenge
follows Emily Thorne, a new Hamptons socialite, who moves in next to the powerful Grayson family. But her real name is Amanda Clarke, and when she was nine, the Graysons and their social circle framed Amanda's father for a horrific crime. Twenty years later, she's out for revenge.
The graphic novel follows the young, inexperienced Amanda on her first mission infiltrating high society in Switzerland. Fans of the show will find several Easter Eggs in the text that link back to the series.
Currently in its third season, ABC Studios'
Revenge
stars Emily VanCamp as Amanda Clarke/Emily Thorne and Madeleine Stowe as Victoria Grayson. It airs on Sunday nights at 9:00 p.m. Eastern/8:00 p.m. Central.