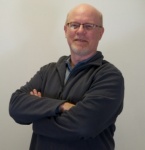 We've been noticing that manga sales are varying as much with streaming as with more traditional media like TV, and we were able to connect with VIZ Media Director, Publishing Sales and Marketing Kevin Hamric to ask what he's seeing.
When we spoke last July (see "Interview with Aker and Hamric, Part 1"), you said that manga sales as of mid-2013 were doing well. How does the manga market look to you in 2014?
The trend that we saw last July continued through the rest of the year. We had a fantastic January so it's already continuing into this new calendar year and we're very bullish on seeing the same type of increases that we saw last year.
Are you seeing that across trade channels--book stores, comic stores, mass?
Yes, absolutely everywhere plus the fact that we're expanding internationally into the Philippines and India, that helps a lot as well.
Any particular titles that have been doing well the past six months?
We've seen a nice increase our core series: in
Naruto
partially due to streaming on Hulu. We saw nice increases in
One Piece,
with its anniversary and celebrating the 300 million copies worldwide. Also some of our newer series like
Nisekoi
and
Tiger and Bunny
,
Happy Marriage
, all started off well for us. And overseas, in England and down under, the staples are the same but also with
Death Note
and
Vagabond
still doing well.
Not so many years ago, the mix of how anime got to consumers was so different. At one point Cartoon Network was running wall to wall anime and TV was the big driver, DVDs have had their day; now streaming is coming on as a new channel with a big impact on manga sales. What are you seeing in overall trends in how anime distribution is affecting manga sales?
The media still has an overall positive effect on our manga sales. The new streaming model is out there for people to get their anime; that is having a comparable effect on manga sales as say television and Cartoon Network did a number of years ago. Especially on the childrens side of things, we're always looking for something that has a media tie-in. That absolutely affects the sale of manga--the sell in and the sell through. Retailer buyers, the first questions out of their mouths are, "Is there anime; is there a DVD; is there a movie; what's going on with it?"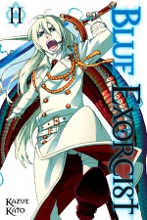 Overall streaming has had a positive effect on our book sales. In recent years,
Blue Exorcist
is probably the biggest example I can give--one of newest hits under our
Shonen Jump Advanced
imprint. We launched our series [in 2010] and had very good sales (they matched our expectations), but once the anime was available through streaming, sales jumped through the roof, and that was in 2011. So streaming was fairly young at that time. Once the anime was streaming, sales of the manga were way above expectations.
And
Blue Exorcist Volume 1
is still a strong performer for us and remained a high selling volume 1 for us in the manga category even into 2012 and 2013 (see "
Top 10 Shonen Properties--Summer 2013
").
Where is that streaming?
It streams on our website, VizAnime, in the States. And the popularity of the anime during its initial run is the reason why the sales shot up and leveled off at such a high rate. Word of mouth and streaming just kept volume 1 as one of our top selling titles in the past couple of years.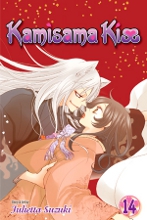 More recently, manga that has streamed anime includes the romantic comedy,
Kamisama Kiss
. The manga series had modest success for us, was meeting expectations, but then Funimation began streaming it online and we noticed the sales increasing slowly, slowly, slowly, and then it really spiked up (see "
Top 10 Shojo Properties--Summer 2013
"). We're up to Volume 14 on that, and the anime is only about volume 7 (half of the manga series is made into anime), so for the anime fans to continue with the series, they've had to go out and buy the manga to figure out what happens next. And that's been fueling the sales of mostly our later volumes.
It might be important to note that we find that manga that's been available in time for an anime's launch works very well. We can't always control when the anime or manga is getting released. Last year we released
Magi
, which is fantasy shonen. Fans have been demanding it and since the streaming began in America, our manga sales are pretty good but we know that could have been better if we were able to coincide the manga release with the anime release.
In that case, the anime was out first. Sales are going well, but we absolutely know they could have been better if there wasn't a lag between the two releases.
How is streaming anime reaching the market? You mentioned VizAnime, FUNimation. What about CrunchyRoll?
I don't know the numbers for rankings, but I think Crunchyroll is number one, FUNimation is number two, Hulu and now Netflix. It's an area that's growing. It's not a surprise that Neon Alley is teaming up with Hulu because of all of this.
So in some cases VIZ controls the US streaming rights for an anime and sometimes not?
That's correct.
And if you control the rights you determine where it's available? Does VIZ tend to try to distribute widely or focus your streaming onto your own site?
We focus on narrow distribution.
In terms of how retailers keep up on anime releases that will affect sales of their manga, what's the best way to stay informed on that? Are there any titles coming up where you know streaming is going to hit in the next six months?
There are a couple of things we aren't able to announce yet, but there are some titles coming in the first half of this year that streaming will be going out and will affect the sales of manga. But even television, like Cartoon Network's Toonami, is doing well for us again.
Naruto
sales were higher in 2013 due to the Saturday night late night airing that started late last year. We saw a huge spike. We got the word out to all our retailers with some special sell sheets to alert them to that and they ordered up for it.
This past weekend
Blue Exorcist
started on Toonami, and on March 22nd,
Black Lagoon
starts. We got the information out to all of our retailers and they're ordering up because of that.
Is Toonami the best anime venue on television right now?
Yes. For more of the adult side. For the kid side, obviously Nickelodeon and Disney XD show things that we've got books for.
Yu-Gi-Oh!,
Pokemon
,
Max Steel
,
Ben 10 Omniverse
.
It looks like they're expanding their time slots for more anime. They're not going to get back to where they were years ago, I don't think, but at least they're devoting more time to anime in their schedule right now.
Has streaming passed TV in importance?
I think so. Right now that's where most of it lives. Cartoon Network took a lot of it off cable television, so everyone switched to streaming for distribution and that's where everyone found it. As far as a lift in sales I don't think it really matters if it's television or streaming online, we see the same type of lift in manga sales.
So it's the number of views no matter where they are?
Exactly.
What's going on with Dragon Ball? You're releasing color editions of the Dragon Ball manga, and FUNimation is releasing season sets of the Dragon Ball Z Blu-rays for the first time. Seems like there's a lot going on with the property. How are the new color versions being received?
The first books are out. I just got my samples of #3 in. Beautiful, beautiful books. There really wasn't any coordination involved with release schedules, but we do work with FUNimation and do some cross promotion and cross marketing. This one is just working out well with the DVDs and our full color editions. The first volume went out nicely and we're just now getting some information on sell through. We're pretty pleased. The reviews on the books have been spectacular. The color is just beautiful.
You're doing a Tiger and Bunny theatrical release (see "'Tiger & Bunny' in Theaters"). What kind of impact on sales you usually see from that type of theatrical release?
Pretty good. Each manga is based on one of the six different main characters so it's not really tied into the movie or the storyline, but we do see a lift. With the theatrical release on March 22 we've seen an uptick in backlist orders over the past couple of weeks both from the distributors and the retailers.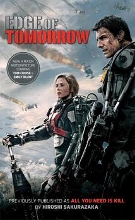 You also have the All You Need is Kill movie coming out this year?
Yes, the movie title is
Edge of Tomorrow
. We do have a mass market movie tie-in edition [of the novel] for that. The cover is basically the poster. The back orders on that already are astronomical. This is the first time ever in a mass market format going in all the places where bestsellers go like Target, Walmart, Sam's Club, supermarkets, airport stores. We're very happy about that. We've got global world rights on that.
We're working closely with Warner Bros. distribution and Warner Bros. movies to tie in with some of their marketing plans and promotions. The back orders right now are really nice. It's good to see this type of book getting out there in droves.
This should be a good Miyazaki year, too (see "A Miyazaki Hat Trick")?
Yes, a huge Miyazaki year. Kutos to the publishing team, Leyla Aker and her team and the licensing team in getting all that put together for us.
Are other comments on the media impact on manga sales?
As we've been saying for past few years, our sales were not really impacted by e-books per se, but our biggest concern is all the other type of media distractions that people have available to them; we're worried about them not reading.
We're going to end our fiscal year on a very happy note and we see it continuing for our next fiscal year. As a category, manga sales are up and everybody I've spoken to is very bullish on that continuing--publishers, retailers and distributors.