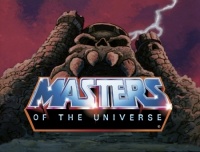 Mattel is getting a summary judgment in its favor in its dispute with comic writer Donald Glut over ownership of the Masters of the Universe property, according to
Hollywood Reporter
. Glut began asserting ownership of the property last year, based on his authorship of four mini-comics with backstory for the property in 1981. Mattel sued in federal court to get a ruling on its rights (see "
Mattel Sues Comic Writer over 'MOTU'
").
Glut claimed his work was not work for hire, but had instead been licensed to Mattel. Mattel argued that the comics were created on a work for hire basis, and that Glut had a duty to raise the ownership issue long ago.
The judge agreed with Mattel in an oral ruling last week, according to the report, with a written ruling to follow.
In addition to its normal exploitation of the property in toys, home video, and comics, there is a feature film in development (see "
'Masters of the Universe' Movie
"), which may be why Mattel has sought a court ruling on its rights.