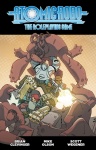 Evil Hat Productions will release the
Atomic Robo
roleplaying game, based on the comic series created by writer Brian Clevinger and artist Scott Wegener, in June.
The
Atomic Robo
RPG will use Evil Hat's Fate Core system to bring to life the fictional comic book world of Nikola Tesla's immortal atomic robot. Players can chose from character types including an action scientist, super spy, pulp adventurer, immortal robot, or even a fictionalized version of Carl Sagan. Like the comic, the game is multi-era, so games can be run across just about any time period, although players should really consider including science, and punching stuff, into thematic play. The game is designed by Mike Olson, Morgan Ellis, Brian Clevinger, Jeremy Keller, and Brian Engard.
The game is for 3 -6 players, ages 12 and up. Game length is listed as 2- 8 hours. MSRP was not available, but Evil Hat confirmed release for "early June."
Evil Hat's Fate Core system recently made a surprise appearance at #3 on ICv2's Fall/Winter Top 5 RPG Sales chart (see "
Top 5 RPGs--Fall 2013
").