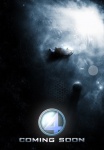 20th Century Fox has reserved opening dates in 2017 and 2018 for a trio of Marvel-based films, including a sequel to Josh Trank's reboot of the
Fantastic Four
film franchise, which is still 15 months away from its debut on June 19, 2015 (see "
Best in Shows--Q2, 2015
"), and yet another
Wolverine
movie. Fox has staked a claim on July 14, 2017 for
Fantastic Four 2
, and it will be preceded by a third
Wolverine
movie, which will open on March 3, 2017. Fox also reserved July 13, 2018 for an as-yet-unnamed Marvel film.
Staking a date for a sequel to the yet unseen
Fantastic Four
film represents a leap of faith on the part of the studio, given the middling box office performances by Fox's previous
FF
films. Though the reboot has been cast (see "
'Fantastic Four' Cast
"), it is not yet completed. At one point it looked as if Fox might give up the rights to the
Fantastic Four
, but given the current cachet of Marvel-based movies (and the experience of Paramount, which gave up on
Iron Man
only to see Marvel Studios turn it into a hugely successful franchise), that appears about as likely as a remake of
The Lone Ranger
.
Of course it is not as if Fox's
Wolverine
movies have exactly set the box office on fire. The recently-released
The Wolverine
earned a bit more overseas (about $414 million vs. $373 million for 2009's
X-Men Origins: Wolverine)
, but it brought in nearly $50 million less here in North America where the studio gets a higher share of the take, so it is difficult to see either film as a big moneymaker for the studio, though Fox did a good job on keeping the costs lower on the 2013 film ($120 million). The 2009
Wolvie
film debuted during the first week in May, while the 2013 film bowed in late July. Moving a third
Wolverine
film to March is a bit of a risk, though it should make for less box office competition.
Deadline
reports that the studio is in no hurry to reveal the identity of the unnamed Marvel-based movie slated for July of 2018, though fan speculation will undoubtedly focus on some sort of
X-Men
film or spin-off.