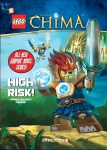 Papercutz is launching four new graphic novel series tied to powerful brands in the next few months, along with support for retailers selling them.
Papercutz, which has sold over 2 million copies of its
LEGO: Ninjago
graphic novels, will launch a new LEGO-based series with
LEGO Legends of Chima Vol.1: High Risk
in May. The 56-page full color graphic novel by Yannick Grotholt with art by Comicon will be priced to move at of $7.99 ($8.99 Can). The new series takes place in a world ruled by animal tribes and divided by an age-old struggle between the noble Lions and the evil Crocodiles.
LEGO Legends of Chima
is the LEGO company's most popular toy line and was the number one new toy property launched in 2013.
The Legends of Chima
animated series, which airs on the Cartoon Network, will introduce 20 new episodes in 2014. LEGO also plans to introduce a mass-participation online
Legend of Chima
game in 2014 as well as creating
Legend of Chima
attractions at the LEGOLAND parks.
Papercutz will support the launch with resources for retailers to host in-store Chima Days, with a special discount on the launch volume for participating retailers, who will also be entered to win a trip to four to Legoland California the week before San Diego Comic-Con.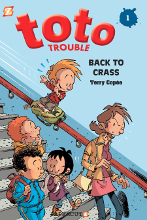 Also in May, Papercutz will release
Toto Trouble #1: Back to Crass
, the first in a series based on the Starz Kids animated series that launched last July. The lead character is a Calvin and Hobbes-esque kid; the volume features short gags with an overall storyline.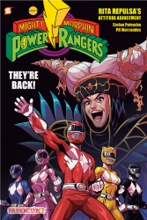 In June, Papercutz will launch a new graphic novel series tied to the most popular Power Rangers series with
Mighty Morphin Power Rangers #1: Rita Repulsa's Attitude Adjustment
. It will be written by Stefan Petrucha with art by PH Marcondes.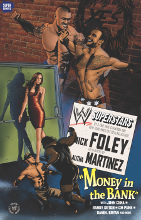 In June, Papercutz will launch two series it first announced at last year's San Diego Comic-Con (see "
Papercutz Adds YA Imprint, 'WWE,' 'Power Rangers'
"). It will collect its first WWE comics into
WWE #1: Money in the Bank
, written by Mick Foley with art by Alitha Martinez. This title will ship under Papercutz' new Super Genius YA imprint.
WWE #1
will be supported with coverage in
WWE Magazine
, in the
WWE Monopoly
game, in a promotion in Hot Topic, via WWE web and TV events, and with store signings, fan outreach, and contests.
In addition to its Free Comic Book Day books (Papercutz will support the event as both a Gold and Silver sponsor), Papercutz is also planning two other programs of retailer support. Its Weekly Activity Sheet Program provides coloring pages, games, comics, and more that can be customized with store branding and output from a b/w printer.
And its "My First Comic" promotion provides a special free store-brandable comic that can be given to parents that purchase a Papercutz graphic novel, as well as stickers that identify kids as "My First Comic" recipients. Stores that participate will get a special discount on Papercutz product.