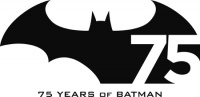 Warner Bros. and DC have announced plans for a year-long celebration to mark the 75th Anniversary of DC Comics' Batman, beginning with the reveal of the new commemorative 75th anniversary logo.
On the comics front, DC plans to release new Batman titles, commemorative issues and variant covers, including the new weekly series
Batman Eternal
launching April 9 (see "
DC Announces Weekly 'Batman' Comic
"), and upcoming exclusive Batman variant covers for San Diego Comic-Con in July. They will also partner with retailers, book stores and libraries for "Batman Day" on Wednesday July 23rd, where stores can host a 75th anniversary celebration and offer a free, special edition Batman comic.
Other planned highlights include an art exhibit, titled "Cape/Cowl/Create," featuring 20 contemporary artists' interpretations of the Caped Crusader's iconic headpiece and cape from the upcoming
Batman: Arkham Knight
video game. The art exhibit will be held at San Diego Comic-Con in July.
Other tie-ins include the release of the
Batman '66
TV series (see "
Classic 'Batman' TV Series
"), the new animated films
Son of Batman
and
Assault on Arkham
(see "
Warners Will Connect DC OVAs
"), and a 25th Anniversary Edition of Tim Burton's
Batman
to release in the fall. Warner Bros. Animation has also created two all-new Batman animated shorts which will debut in April, by Bruce Timm and Darwyn Cooke.
The announcement also mentioned toys, apparel and other consumer goods, but surprisingly, didn't go into detail about the recently announced Batman action figure lines DC Collectibles announced at Toy Fair (see "
New 'Batman' Toy Lines
").