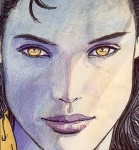 After his last Sandman hardcover in 1999 (The Sandman: The Dream Hunters), Neil Gaiman turned to other things, including his best-selling, Hugo-Award-winning novel, American Gods: A Novel, in 2001 (see 'American Gods Wins Hugo Award'); and Coraline, a children's book published last year. Now he is returning to comics with two major releases in under 60 days (four releases all together in August and September), a perfect storm for the growing legions of Gaiman fans. We talked to Gaiman at the BEA to better understand the implications for retailers.
Sales numbers on his recent books revealed that Gaiman's work away from comics has vastly increased his importance in the comics business. American Gods sold 90,000 copies in its U.S. hardcover edition (plus another 30,000 in the U.K.) and 500,000 in mass market paperback. Coraline sold around 130,000 in hardcover in the U.S.. Compare those numbers to Gaiman's best-selling comics work. Dream Hunters, according to Gaiman, had hardcover sales of around 65-70,000 when it was released in 1999. While the ten volumes of the Sandman series (the oldest of which has been in print for over a decade) have in excess of 2 million copies in print, the popularity of Gaiman's fiction has clearly increased the potential sales of the comic work dramatically.
The Gaiman releases will also benefit from the publicity, advertising, and merchandising activity surrounding an unplanned convergence of four Gaiman titles due for release in less than sixty days in August and September. Each had its own schedule; it's purely coincidence, according to Gaiman, that they're all being released so close together. First up is The Wolves in the Walls, a new children's book with artist Dave McKean, due for release August 8th. McKean's ideas for this book go back four years, but the work has just been completed and is being released in a few months. And a new volume of Little Lit, with a story written by Gaiman and illustrated by Gahan Wilson, will also be released that month.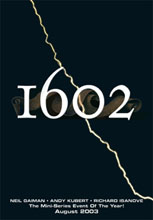 August is also the launch date for the first issue of 1602, a new comic mini-series with art by Adam Kubert and colors by Richard Isanove, Gaiman's first work for Marvel in eight years. This book was originally announced in 2001 (see 'Marvel Snags Neil Gaiman') and is now finally launching as the first of the two major Gaiman releases from the Big Two comic publishers. One reason for the delay, according to Gaiman, was the desire to get most of the mini-series complete before the first issue shipped, so that all of the issues could ship on time; he said about 75% of #5 was done. Originally announced as six issues, 1602 will be an 8-shot, priced at $3.50. Very few other details are known about it, other than that it will be set in the Marvel Universe.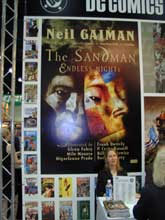 In September, DC's Vertigo imprint will release The Sandman Endless Nights, a new Sandman hardcover written by Gaiman with art by some of his favorite artists: Frank Quitely, Milo Manara, Glenn Fabry, P. Craig Russell, Miguelanxo Prado, Barron Storey, and Bill Sienkiewicz. The scheduling of this book was driven by Vertigo Executive Editor Karen Berger's wish for a major publishing event to mark the imprint's 10th Anniversary. Beyond his desire to accommodate her, Gaiman's other motivation was Berger's ability to involve his dream artist roster. We saw some very nice pages at the show, including Manara's; this looks like a great book. Asked what sales he expected on the $24.95 hardcover, Gaiman said, 'If it sells less than 100,000 copies, DC's not doing its job, and from what I can see DC is doing its job very well.' This would be 50% larger than Dream Hunters, but given the hundreds of thousands of new readers that have been exposed to Gaiman through American Gods, it is probably a conservative estimate. DC was making a major push to the book trade at the BEA, and it will also do very well in comic stores.
Beyond the individual strength of each of these releases, the combined weight of the four products is going to give each more prominence than it would have had alone. And it's unlikely that the relatively modest prices of these four releases will represent a barrier to Gaiman's fans.
The next item coming from Gaiman?

A Short Film about John Bolton, by Gaiman and produced by Guy Ritchie's company, will probably get released in some form soon.