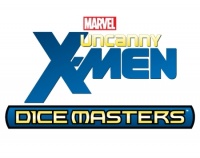 WizKids has shared news on its first and second
Marvel Dice Masters
releases and plans for organized play.
The first release,
Marvel Dice Masters: Avengers vs. X-Men
, has sold out prior to release; a reprint will be available in late May or early June.
Currently, while the game is new, stores are encouraged to run their own in-store play tournaments, and WizKids has provided an online help guide and results are reportable to the WizKids Events System.
In June, stores can offer
Marvel Dice Masters: Avengers vs X-Men Storyline Organized Play
, which will be supported by a six month program of OP kits. The kits will offer both competitive and participation prizes including alternate art cards and new cards for players' existing dice. In month six, a unique card and dice combo will be offered as grand prize.
WizKids previewed preliminary box art for
Marvel Dice Masters: The Uncanny X-Men
at GTS last month while demoing the
Avengers vs. X-Men
release (see "
'Marvel Dice Masters: X-Men' and 'Play Mat'
"), but details were not finalized on the set. The new set, which will come in both starters (MSRP $14.99) and boosters (MSRP $0.99), will feature Wolverine, Magneto, Cyclops, Iceman, Psylock, and the Sentinels among others. The planned release date is Fall 2014.
For some previously unrevealed images from the new game, see "
Preview: 'Marvel Dice Masters: Avengers vs. X-Men'
".