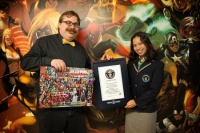 Deadpool
#27, the special double-sized issue that tells the story of Deadpool's wedding, set a new Guinness World Record, Marvel announced Wednesday, for the most comic book characters on a single issue cover. The illustration, first revealed when the special issue was announced back in January ended up with 224 characters, down somewhat from the 245 originally announced (see "
Deadpool Wedding
"). The cover as published also includes eight creators.
The issue, written by Gerry Duggan and Brian Posehn with art by Mike Hawthorne and Scott Koblish, streeted Wednesday. The cover was by series cover artist Koblish. The issue also includes stories by an all-star collection of past
Deadpool
writers (see "
First Gander at Deadpool's Nuptials
"). The bride was revealed in January (see "
Meet Deadpool's Fiancee
").