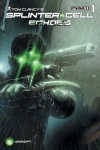 Dynamite Entertainment has announced an adaptation of Tom Clancy's
Splinter Cell Echoes
, as well as an
Army of Darkness
wedding event issue, for July.
Dynamite has teamed with Ubisoft to release a four issue comic mini-series adaptation of Tom Clancy's
Splinter Cell Echoes
, a prose story that was previously only available in a limited print run as part of the
Splinter Cell Blacklist Collector's Edition
. The comic story will be written by Nathan Edmondson (
Black Widow, The Punisher
), with art by Marc Laming (
American Century, Kings Watch
), with covers by Marc Laming.
The story bridges the gap between events in the video games
Tom Clancy's
Splinter Cell Conviction
and
Tom Clancy's Splinter Cell Echoes.
Each issue will include behind-the-scenes material from Ubisoft. The
Splinter Cell
video game franchise has sold more than 27 million copies worldwide since 2002. The first issue will release July 2nd, and the series will run through October, then be followed shortly by a collection.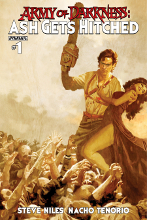 On July 9, Dynamite will release
Army of Darkness: Ash Gets Hitched #1
. Written by Steve Niles (
30 Days of Night, Criminal Macabre
), with art by Nacho Tenorio (
Dark Shadows
), the event will feature covers by Jae Lee, Lucio Parrillo, Francesco Francavilla, Nick Bradshaw, Arthur Suydam, and Stephanie Buscema.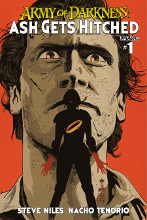 "I think fans of the films will really enjoy what we're doing in
Ash & the Army of Darkness
," says Niles. "It was a dream come true for me to create the sequel we never got. This is pretty huge for the
AoD
universe because it means Ash is going to stay in the Dark Ages and be a father and husband. It's going to be a very strange and fun trip."