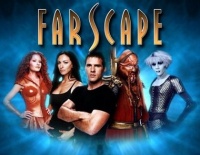 Justin Monjo, one of the writers of the Farscape sci-fi TV series, is writing a screenplay for a
Farscape
TV movie for Jim Henson Productions. No word yet on the eventual TV destination for the
Farscape
TV movie, which will be shot in Australia and directed by Brian Henson.
News that Monjo was writing the
Farscape
script was first reported on the Australian Website
if.com
. The new
Farscape
film follows in the wake of the
Farscape
comic book series and will chronicle the adventures of John and Aeryn's son D'Argo. The script follows the adventures of D'Argo at the age of 19, when the whereabouts of the gifted and dangerous teen have been discovered, and he rejoins his parents in space.
Monjo is also penning the script for a dwarf detective saga (T
he Beasts of Valhalla
) starring Peter Dinklage (
Game of Thrones
) and based on a series of novels by George Chesbro.