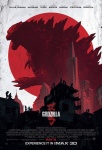 The new international trailer for Legendary's
Godzilla
movie makes a definite link to the classic movie monster's storied past as the narrator intones "In 1954 we awakened something." This trailer continues to tease us with glimpses of the giant monster including one startling shot of Godzilla emerging from the sea that is simply breathtaking. Like last year's
World War Z
, which largely kept the movie's zombies out of the trailers, Legendary has chosen not to provide a total "reveal" of Godzilla in the trailers. Given the success of
World War Z
, that was a smooth marketing move, and like
WWZ
,
Godzilla
should do especially well in the International market.
In spite of Matthew Broderick, the much maligned 1998
Godzilla
movie still made $220 million in the U.S. (adjusted for inflation), and it appears likely that the 2014
Godzilla
should be able to equal that number, especially given the extra charges for IMAX and 3-D tickets. Speaking of IMAX, the specific IMAX poster for the film was released today and with its cool distressed look it carries on the strong graphic tradition that the movie makers established last summer when the
Godzilla
Comic-Con poster was clearly the most striking film poster design at the Con (see "
Comic-Con Posters--Part 1
").
With the May 14th debut of
Godzilla
just a few weeks away, the pace of publicity is building to a crescendo (see the recent article "
New 'Godzilla' Trailer, Plus Extended Look
").