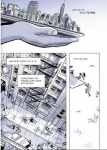 First Second has announced the February, 2015 publication of
The Sculptor
, Scott McCloud's first original fiction graphic novel. McCloud, who is best known for his seminal trilogy about the nature and potential of the comics medium,
Understanding Comics
,
Making Comics,
and
Reinventing Comics
volumes, created the lighthearted sci-fi comic
Zot!
In 1984.
Zot!
was collected into graphic novel collections, but
The Sculptor
is, according to First Second, McCloud's first original fiction GN.
In
The Sculptor,
McCloud has created the Faustian saga of a young artist David Smith, who literally gives his life for his art by making a deal with the devil to give up his life in 200 days in return for absolute mastery of sculptural techniques. Throw in an 11th hour meeting with the "love of his life" and there promises to be plenty of dramatic tension, especially in the hands of an artist whose deep philosophical explorations of the comic book medium have earned him the sobriquet, "The Aristotle of Comics."