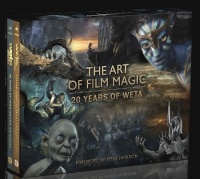 Weta Workshop will release
Weta: The Art of Film Magic--20 Years of Weta,
a deluxe, two-volume set of books detailing its past 20 years of movie magic, in October.
The Weta Workshop/Weta Digital special effects and prop company, located in Miramar, New Zealand, first came to prominence through association with director Peter Jackson and the work they did for
The Lord of the Rings
film trilogy. The company was originally formed in 1987, under the name RT Effects. In 1993, founders Richard Taylor and Tania Rodgers joined with Peter Jackson and Jamie Selkirk to expand the company, and named the new company Weta. The company was later split into two divisions: Weta Digital (digital effects) and Weta Workshop (physical effects). In the past 20 years they have worked on such blockbusters as
The Lord of the Rings
trilogy,
Avatar, The Avengers, King Kong, District 9
and
The Hobbit
trilogy.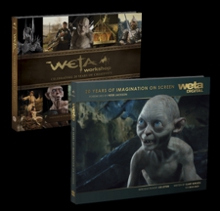 The two oversize (10.4" x 14.6") hardcover volumes will include a combined 464 total pages of content, and come packaged in a slipcase. The books will include concept designs, sketches, making-of and behind-the-scenes imagery, interview material from cast and crew, and a look at how the costumes, creatures, characters, weaponry, and visual effects are created.
Films included in the work include:
Avatar, Avengers, The Adventures of Tintin, The Chronicles of Narnia, District 9, Elysium, The Hobbit trilogy, King Kong, The Lord of the Rings trilogy, Prometheus,
and
Rise of the Planet of the Apes
. MSRP is $99.99.