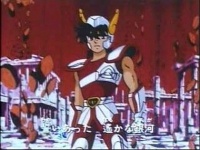 DIC Entertainment, the company that packaged Sailor Moon for U.S. consumption, is launching Knights Of The Zodiac, the anime series known in Japan as Saint Seiya, on the Cartoon Network in August. Considered one of the 'biggest hits' to come out of Japan, the 114-episode series that began in Japan in 1986, has been extremely successful in Asia, Europe, and South America. As DIC CEO Andy Heyward pointed out, 'There has never been a Japanese series that has been a mega-hit in Asia, Europe and South America that has failed to become a mega-hit in the U.S.' DIC has prepared 40 episodes of the anime series, which is based on a manga by Masami Kurumada that originally appeared in Shonen Jump. Bandai America has the toy license, while ADV Films will produce Knights of the Zodiac DVDs starting in the first quarter of 2004.
The narrative of Saint Seiya follows the adventures of the Bronze Knight Seiya, who leads his team in battle against Phoenix and the Black Knight. Seiya and company must fight their way up the chain of precious metals to protect the golden armor of Sagittarius in a wildly complex plot structure in which conquered foes are repeatedly reincarnated. With a clever use of cliffhanger endings and abrupt breaks in the ferocious action, director Shigenori Yamauchi keeps things interesting in this classic boys' adventure series, which will start appearing on the Cartoon Network as part of its Saturday Action Block in late August of 2003.
Bandai America's parent company in Japan has had a 17-year history with this property, having sold some 5 million action figures in Japan and more than 25 million globally. Bandai America plans to introduce a line of 5-inch and 8-inch articulated action figures that are exclusive to the U.S. market in early 2004. Additional Bandai toys including battle-damaged action figures, game cards, and role play items are slated for Fall 2004.