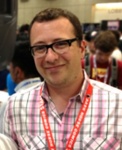 Oni Press announced it has hired Tim Wiesch as its new Vice President of Business Development.
Wiesch comes to Oni after five years as Dark Horse Comics' Director of Foreign Licensing. Wiesch will handle foreign and domestic licensing for Oni, as well as pursuing new opportunities outside of its core publishing business to expand its brand and creators through creative partnerships and other endeavors.
Oni's previous Director of Business Development, George Rohac (see "
Archie, Oni Staff Announcements
") left the company in April 2013.