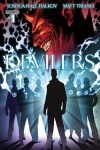 "We're going to try this a different way," Dynamite CEO Nick Barrucci said of the strategy the company is trying on
Devilers
#1, written by Joshua Hale Fialkov. The company has always had healthy overprints on its early issues, but will be printing to order on the first launch of its new creator-driven line (see "
The 'Devilers' First in Creator Driven Line
"), he said.
The overprint strategy is tied to the returnability Dynamite is offering retailers on the title. "It's $2.99 and fully returnable [from retailers] with no thresholds," he said, "so we're trying to make it really easy for retailers to order what they need."
"We had to balance offering this at $2.99 for fans to have a lower priced comic to try and also making it fully returnable, so the extra cost of overprinting is not affordable," he added.