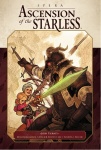 BOOM! Studios has announced the release of
Spera: Ascension of the Starless Vol 1,
under its Archaia imprint in October.
The new original graphic novel is written by
Josh Tierney
, whose
Spera Volume One
was nominated for a 2013 Eisner Award.
Spera
is a mash-up of young-adult fantasy, pulpy adventure comics, and retro video game themes. This new storyline follows the adventures of Princess Pira and Princess Lono as they join forces to combat the common threat from the Starless Queen. They will be joined by friends Yonder (a fire spirit) and Chobo (a cat) who have also appeared in previous
Spera
releases.
The 176 page, 6" x 9" hardcover graphic novel will arrive on October 1st. It will feature art by Giannis Milonogiannis (
Old City Blues, Prophet
), Atelier Sento(which is comprised of the duo of Cecile Brun and Olivier Pichard), Mindy Lee, Sourya Sihachakr (
Rouge
), and Valentin Seiche, with a cover by Afu Chan. MSRP is $24.99.