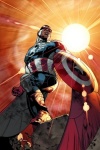 Sam Wilson, f/k/a Falcon, will be Captain America in a new series presumably launching in November. The new series,
All-New Captain America
, will be written by Rick Remender with art by Stuart Immonen, the current
Captain America
creative team. Marvel has been leading up to this announcement with the revelation last week that Steve Rogers will be replaced as Captain America in
Captain America
#25 in October (see "
Captain America Getting Replaced
").
The announcement was made Marvel Chief Creative Officer Joe Quesada on
Colbert Report
, which led to this exchange.
Colbert: "This guy's black, doesn't that make him Captain African-American?"
Quesada: "I don't see colors."
Colbert: "If you don't see colors, how do you do comic books?"
Steve Rogers will continue to appear in the new series in his physically aged condition, acting as a tactician back at the base, according to Marvel's more detailed announcement after the show. And Rogers' adopted son Ian will be Nomad.
The new Captain America costume will incorporate Falcon-like wings, which will give the new Cap flight (although Wilson, unlike Rogers, will not have the benefits of the super soldier serum).