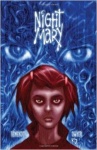 San Diego Comic-Con News:
IDW Publishing and Universal Cable Productions are teaming up to develop
Night Mary
, an IDW comic book written by Rick Remender and illustrated by Kieron Dwyer as a live action TV series.
Night Mary
was a five-issue limited series that IDW published from July to November of 2005. The title character, the 17-year-old Mary Spector has been trained as a lucid dreamer by her father, who runs a sleep disorder clinic where she enters the dreams of his patients. When one of those patients turns out to be a serial killer, the saga takes a nightmarish turn.
The good news for fans of this project is that Universal Cable Productions has an excellent track record of producing entertainment for cable networks with shows like
Covert Affairs, Psych, Royal Pains, Playing House, Defiance
, and
Warehouse 13
.