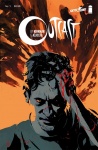 San Diego Comic-Con News:
The assault on the small screen by comic book properties continues at a record pace as Robert Kirkman, the creator of the uber-hit
The Walking Dead
, revealed that Cinemax has gone into production on a pilot based on Kirkman's horror comic
Outcast.
Announced less than a year ago (see "
Kirkman Writing New Horror Comic for Image
"),
Outcast
, which deals with demonic possession, was optioned by Cinemax last November (see "
Kirkman's 'Outcast' to Cinemax
"), and now a pilot episode goes into pre-production just a month after the first issue of the comic was released.
Kirkman wrote the pilot for
Outcast
and will serve as an executive producer on the series. This morning he
tweeted
"Demons are the new zombies.
Outcast
pilot into pre-production." Given Kirkman's record with
The Walking Dead
, the
Outcast
pilot will undoubtedly get a long look from the networks.
With five new comic book-based TV series slated for the 2014-2015 season, including 4 from DC/Warners (
Gotham,The Flash, Constantine
, and
iZombie
) and Disney/Marvel's
Agent Carter
the presence of comic book properties on the small screen has never been bigger.