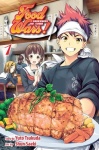 Food Wars: Shokugeki no Soma Vol. 1 TP
Publisher: VIZ Media
Release Date: 8/5/2014
Price: $9.99
Creator(s): Story by Yuto Tsukuda, Art by Shun Saeki
Format: 208 pgs., Black & White, Trade Paperback
ISBN: 978-1-4215-7254-3
Age Rating: 15+
ICv2 Rating: 4 stars out of 5
In
Food Wars
, the main character is named Soma Yukihira. The son of a chef in a small family restaurant in a bad part of town, Soma has grown up in a kitchen and wants nothing more than to be the best chef out there, better than his father even, which is a pretty tall order.
One day, though, Soma's father decides to shut down the restaurant and do some work abroad. Instead of taking his son with him he challenges him by enrolling him in an elite culinary high school where less than 10% of the students actually make it to graduation due to their incredibly strict standards. Will Soma even make it into the school let alone make it to graduation?
Food Wars
is one of those manga series that was met with a mixed reaction from people that I follow when it was first licensed by VIZ Media. Some of the people were cheering and some were cursing and I didn't have the faintest idea why. It only took one chapter of this book for me to realize exactly why this series got such an odd reaction; it's a very odd little book.
With cooking as its center theme, the first five chapters of this book are a ridiculous shonen hot mess (and I'm being complimentary with that phrase). This is a series that is all about the reaction shots. Just about every chapter focuses on Soma having to prepare some kind of dish for someone who wants to challenge his cooking prowess and then shows them having literal orgasmic reactions to what they are served. In the first chapter, a woman tries Soma's food and feels like she is being bathed in fresh water. In another chapter a girl tries his cooking and likens the experience to being tickled by angel feathers. Yes, these reaction shots come with the requisite fan service but it hardly reaches a particularly objectionable level. In fact the fan service actually made the reactions that much funnier.
While I openly admit that I would rather see this series as an anime series, the first volume of the manga is not bad in the least. The artwork is well done and compliments a solid story and character introductions. Some people will complain that this book follows the typical shonen fight formula a little too closely but that's part of its charm in this reviewer's opinion.
If you want a new shonen series to pick up that might even help you out in the kitchen, I have absolutely no qualms about pushing you towards this one. This volume made for one tasty appetizer and I'm already looking forward to getting my hands on more.
--
L.B. Bryant