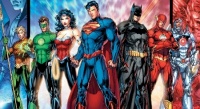 Marvel apparently won the staring contest with DC, with Warner Bros. announcing today that
Batman v Superman: Dawn of Justice
has vacated the May 6, 2016 release date also claimed for
Captain America 3.
The announcement came as part of a reservation slate from Warner Bros. for nine untitled films, according to
Variety.
The protracted game of studio "chicken" has been ongoing for quite some time (see "
Marvel Movie Round-Up
"), with Warner Bros. unwilling to budge after already having bumped
Batman v Superman
back to accommodate what was eventually revealed to be plans for a
Justice League
feature (see "
'Justice League' Movie Announced
"). The new date for
Batman v Superman
is March 25, 2016, when the only current geek contender listed,
Warcraft,
will have had a two week run (see "
Best in Shows--Q1 2016
"). In a strange coincidence, it may have been the early-April success of Marvel's
Captain America: Winter Soldier
(see "
'Winter Soldier' Sets April Record
") that convinced Warner Bros. the coveted May opening wasn't necessary to post big box office numbers.
Again following Marvel's example, Warner Bros. also reserved nine dates for "Untitled DC Films" through 2020. The dates don't exactly line up with the Nikki Finke schedule leaked in June, and touted as a San Diego Comic-Con announcement (see "
Warners' DC Film Schedule
"), but stand-alone
Justice League
character spinoffs are likely in the mix. With the persistent
Shazam
rumors circulating, confirmation that a
Sandman
movie is in the works, and Guillermo del Toro's recent statement that his 'Dark Universe' is still on the table (see "
Writer on 'Justice League,' 'Dark Universe' Update
"), who knows what Warner Bros. is planning.
The new dates are as follow:
Aug. 5, 2016: Untitled DC Film
June 23, 2017: Untitled DC Film
Nov. 17, 2017: Untitled DC Film
March 23, 2018: Untitled DC Film
July 27, 2018: Untitled DC Film
April 5, 2019: Untitled DC Film
June 14, 2019: Untitled DC Film
April 3, 2020: Untitled DC Film
June 19, 2020: Untitled DC Film