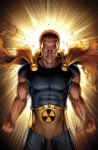 Marvel Comics has unveiled a first look at Hyperion who takes center stage in the September-shipping oversize
Avengers
#34.1 in a solo story written by Al Ewing and drawn by Dale McKeown, with a variant cover by Chris Bachalo. The latest incursion by Hyperion into the Marvel Universe brings up the question, why was he brought to Earth, and what purpose will he serve in the 21st Century Marvel cosmos?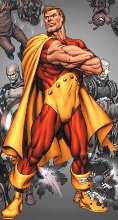 Created by Roy Thomas and John Buscema in
The Avengers
#69 in 1969, Hyperion has appeared in five different incarnations in the Marvel Universe, two of which were villains belonging to the Sinister Squadron team (this Hyperion is clearly based on Superman with the Sinister Squadron sort of a dark-side version of DC's
Justice League
), two of which were heroes from alternate universes, and one of which is zombified clone.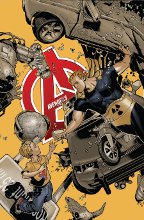 From the description Marvel has released for
Avengers
#34.1 it is clear that this latest Hyperion appears to be on the heroic side ("the sole survivor of a world decimated by incursions... Father figure to a new species of life thriving in the Savage Land"). Will he be joining the Avengers team going forward? Well Marvel says, "He is an Avenger and so much more."