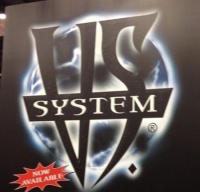 Gen Con News:
One of the biggest stories at Gen Con was Upper Deck's revival of the
Vs
System
card game (see "
Upper Deck Reviving Its 'Vs. System'
"), and
ICv2
caught up with Upper Deck's Marvel Brand Manager Jason Brenner to clarify the company's plans for the game.
Upper Deck was selling a trial product at the show. "What you get here is three decks of Marvel cards that we printed years ago," Brenner said. "They're slightly different. No text or mechanics have been changed, but there are some updated naming conventions and things like that to show that it's from Gen Con. This is a preview edition, so this is in no way shape or form indicative of what we would do for a production run. This is just something we wanted to get out for the show."
The cards in the trial product were all from the original Marvel
VS.
cards from the first set, in an X-Men deck, a Brotherhood deck, and a Sentinels deck. The new special product was custom configured by one of the original designers, Danny Mandel.
Brenner explained that the trial was in response to requests to revive the game and was designed to assess the demand. "We brought it back at Gen Con because we've always heard, at every show and every forum that we go to, that it was something that Upper Deck needed to bring back, and shouldn't have been canceled," he said. "It's always hard to know if it's the same 100 guys and gals or if it's a million guys and gals out there. We wanted to bring it back, in a capacity to say 'Let's just try it and see what happens.' Let's see if people still want it or if it's just 10 guys [who keep asking for it at shows]."
If the response is sufficiently positive, the company will announce a re-launch plan, which will include Marvel, and other licenses as well.
We asked about the format of the game if it gets the green light to go ahead, and Brenner said that it was not a TCG and not a deck-building game. He also did not describe it as a "Living Card Game," as the banner the company displayed at the show did (LCG is a trademark of Fantasy Flight Games, and we suspect that nomenclature will be quickly dropped).
"(We're) going to sell a master set that comes with X amount of cards," Brenner said. "It's still going to allow someone to build their own customized deck, so when they come to the table, it's still me versus you. I brought my constructed deck, you have your constructed deck, lets go."
"I think what players want, and they can correct me if I'm wrong, is the
Vs.
system," he said. "They want that system in place and they want that available to them on a regular basis, so the content may not be as paramount as having that game play system intact. So what that allows us to do is create some new content, pepper in some old content and do the best of both worlds."
As with the format, organized play will be handled differently from the last time around. "If all things go well, we'll put together an OP plan, a grass roots, casual-style program. No pro circuit, because we don't have the infrastructure, and quite frankly, I think that led to the demise of the first game. The hardcore pros out there, and the high barrier of entry for a new player, were too intimidating."
Plans for product releases, if the company moves forward, likely won't emerge until early 2015.