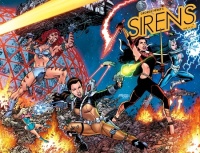 BOOM! Studios will launch a female superteam limited series from George Perez on September 17.
George Perez's Sirens
is the legendary creator's first original series in over a decade. Perez signed an exclusive agreement with BOOM! last year (see "
George Perez Goes Exclusive with Boom!").
The six-issue limited series is a cosmic adventure where a female team known as the Sirens must reunite to save the galaxy. But the universe remembers them previously as… villains? The first issue will feature two full-color connecting wraparound covers by George Perez, as well as another illustrated by Cameron Stewart (
Catwoman, The Invisibles
). Two incentive covers will feature the Perez wraparound cover pencils.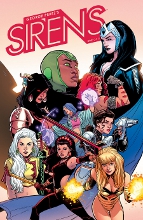 "George Perez is known for working on some of the most beloved comic book characters and stories in the industry, so when he approached us saying he had an original story with an all-female team, there was only one correct answer," said Matt Gagnon, BOOM! Studios Editor-in-Chief. "Quite simply, the man is a legend. He's been an integral part of the comics industry for over 40 years, and it's an honor to be working with him on a brand-new series."