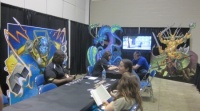 Wizards of the Coast has announced that it is ceasing production of new paper
Kaijudo TCG
releases after
Vortex
, the August release (see "
'Kaijudo: Vortex'
"). "While Kaijudo's retailer and player community continued to grow, our product offerings didn't meet the expectations of the broader fan base to engage further with the brand," the announcement said by way of explanation.
The cancellation of the product line comes after the animated series went off parent Hasbro's Hub channel after the second season, and the withdrawal of the brand from mass channels (the last time it appeared on ICv2's Top Mass Channel Collectible Games chart was for Summer 2013, see "
Top Collectible Games—Summer 2013
"). While the product line remained in the hobby channel, uptake was spotty, with some stores doing OK with it and others not participating at all.
The 2012 launch of Kaijudo (see "
WotC Revives 'Duel Masters' Franchise
") was the second time around for the
Duel Masters
-based property in the U.S. An earlier try, which began in 2004 (see "
WotC to Launch Duel Masters CCG in March
"), also tanked.
The U.S. performance contrasts with the brand's performance in Japan, where it has been a steady #2 (after
Yu-Gi-Oh!
) for years. And although WotC parent Hasbro called out
Duel Masters
declines in Japan in its recent quarterly report (see "
'Magic' and 'Duel Masters' Sales Drops Punish Hasbro's Bottom Line
"), most of that drop was due to exchange rate shifts rather than declines in sales, according to a source familiar with the numbers.
WotC is planning a gentle landing for the brand. It will run the planned Winter Championship on October 10-12 in Providence, Rhode Island, and all remaining Kaijudo Master Challenge qualifiers. The company will also "...send special kits of unreleased and limited-release promo cards as thank you gifts to all stores reporting August Kaijudo Duel Days and scheduling September KDDs to share with their players."
There was a planned November release,
Eye of the Storm
. WotC will give participants at the Winter Championship an electronic copy of the release, and qualified players will be able to play in a booster draft featuring packs of stickered
Eye of the Storm
cards on Friday evening. The final scheduled events for
Kaijudo
will be October Duel Days.
WotC Brand Director R. E. Dalrymple rued the end of the brand in the U.S. "This turn of events is truly heart-breaking for all those involved with
Kaijudo
at Wizards of the Coast because of our own love of
Kaijudo
, and the passion we see and feel from our community," he said. "We can't be more grateful to our fans, retailers, and distributors for the enthusiasm they brought to the game and their participation in making
Kaijudo
a great experience for all."