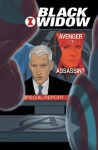 Emmy Award-winning news anchor Anderson Cooper will be bringing his brand of cable news investigative journalism to the Marvel Universe when his character puts Black Widow in the hot seat this November in
Black Widow
#12
.
Currently the star of his self-titled
Anderson Cooper 360
on CNN, Cooper is also a comic fan, and has had conversations with series writer Nathan Edmondson, which led to the real-world/comics crossover. "I found that he was a comic book fan and reader and shared some of my work with him over a year ago," Edmondson said. "Then as we were strategizing upcoming issues of
Black Widow
I had this idea for an opportunity to involve him directly in the book. He was thrilled with the idea."
The story will see Cooper delving into the history of the KGB operative/assassin-turned-Avenger, as well as exposing how she spends her off time. It's doubtful this will be a soft-focus, tearful Barbara Walters- or even Oprah-style interview.