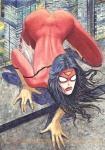 In words more likely to inflame than mollify, Milo Manara has responded directly to American critics of his variant cover design for
Spider-Woman
#1, which aroused considerable ire on the Internet due to the character's provocative pose (see "
'Spider-Woman' Manara Variant Spurs Controversy
"). In an interview on the Italian comic book site
Fumetto Logica
, Manara took issue with his American critics, arguing that there were other situations (the events in Ferguson, the spread of Ebola in West Africa) that are much more worthy of discussion, that male superheroes also wear skintight costumes, that this wasn't one of his "most erotic covers," and "it's not my fault if women are like that. I just draw them. It's not me that's done this: the author--let's just say--is a much more "important" one, for those who have faith... On the other hand, for evolutionists (including me), women's bodies have taken this form over the millennia in order to avoid the extinction, in fact. If women were made ''exactly as men, with the same shape, I think we would have already been extinct for a long time."
Needless to say Manara's response did not satisfy his critics. Jill Pantozzi, writing on
The Mary Sue
blog, noting, "it's sad to see him (Manara) take the route so many do when people try and discuss issues as they pertain to women's representation in entertainment--namely, that there are more important things to worry about. This line of argument assumes people can only be concerned about one thing at a time and is meant to derail (whether on purpose or not) an otherwise worthy topic of discussion."
Pantozzi also maintains that the skintight costumes of male superheroes are designed to show off the character's muscles and provide a "male power fantasy," while the painted-on costumes of female characters make them the object of sexual fantasies. Manara is unapologetic about his overriding interest in the female body, and maintains that criticism of Marvel for using his art to appeal only to an audience of slavering fanboys is unfair and unfounded, "by using a cover of that kind, they're commissioning it to me, an artist who, you know, has a male audience. I totally reject this (criticism). My audience is at least 50% female. I know it for a fact because when I go to festivals, and I see the queue of those who put themselves in line to get signed books, there are more women than men. Therefore, I also reject the notion that the celebration of the female body interests only to males: I do not think so."
Is this another case of sophisticated continental mores bumping up against a new world feminism that still has a residue of Puritanism, particularly when it comes to images? Manara's "what's the big deal" tone would suggest that he might think so. The artist claims that he can "understand" the objections of his critics, "As I also understand people who have felt offended. But I understand them in the sense that it suddenly open my eyes, and I have to acknowledge that what I think is a beautiful picture, nice, attractive, seductive--that is exactly my purpose, or what I want to achieve--for some others is disturbing. But this is something that I have to consider every time. And in some ways, I am more and more surprised."
Marvel's Tom Brevoort, while conceding that critics of the cover "have a point, at least in how the cover relates to them," pointed out on
Tumblr
that the Spider-Woman cover was a variant, and those ordering a "Manara" variant are well aware of what they will be getting, "Milo Manara has been working as a cartoonist since 1969, and what he does hasn't materially changed in all that time. So when we say "Manara cover," his body of work indicates what sort of thing he's going to do."
But Brevoort also opined: "I think a conversation about how women are depicted in comics is relevant at this point, and definitely seems to be bubbling up from the zeitgeist. That too is fine. Nothing gets better unless ideas are communicated."