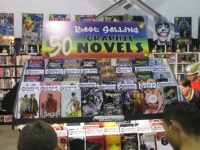 The show we found on this year's annual day trip to Chicago suburb Rosemont for Wizard World Chicago Comic Con (nee Chicago Comicon) was bigger once again, with the exhibit floor some 40% larger than it was in 2013, according to convention organizers. A lot of that additional space was taken up by booths directed at the general public that seems to be an increasing part of the audience at some comic conventions. Apparel and jewelry were two of the biggest categories, but everything from a barber shop to a smoke shop were set up on the floor this year, demonstrating the belief, at least among some exhibitors, that you didn't really need to be selling products or services that had anything to do with comics to make money at a comic show.
All that variety was arranged for discovery, with no real clustering of particular types of booths in a single area. For example, comic dealers were spread out, and none of them were where they had been the previous years.
Booth prices were up, according to exhibitors, which some believed was squeezing out the low end of the prices at the show, and we did see fewer discounted comics, graphic novels, and toys than we had in years past.
Comic publishers are still limited, with only a handful with booths at the show.
This was a very interesting display at one of the Graham Crackers Comics booths. Owner Jamie Graham told us that he saw it as a way to appeal to the casual consumers. As in his stores, he uses the display to help direct neophytes to the most popular titles, so they can read what the more knowledgeable fans are reading.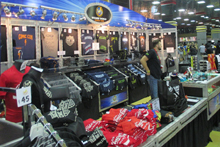 One of several Wizard World merch stores, this one at the entrance to the main exhibit hall.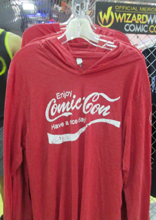 Merch without Wizard World branding with various "comic con" logos, including this one with what appears to be a hyphen, look similar to those targeted by a lawsuit by Comic-Con International, which runs San Diego Comic-Con, against Salt Lake Comic Con (see "
San Diego Comic-Con Sues Salt Lake Comic Con
").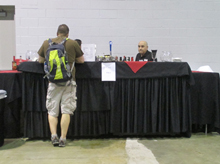 Cocktails are served at Wizard World Chicago Comic Con.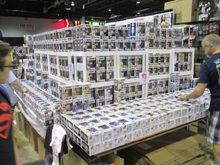 This Chicago show has been notable over the years for the number of toy/figure dealers that exhibit; increasingly, that means more displays like this array of Funko POP! vinyl figures.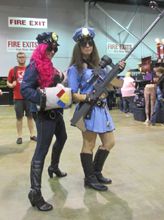 These officers are armed and dangerous.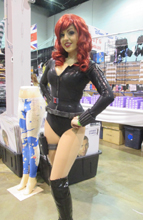 Pro cosplayer Nicole Salera, striking a pose in her Black Widow costume.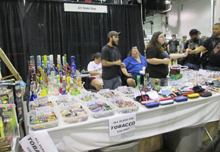 Chicago Comic Con has always had a bit of an outlaw feel at times, as here with the bong display next to the
Star Wars
figures.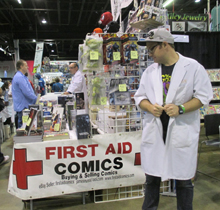 Liking the marketing with the white coats on the First Aid Comics team.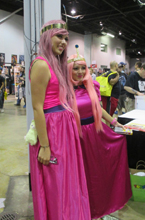 A serendipitous meeting of two cosplayers playing the same character--Princess Bubblegum from
Adventure TIme
.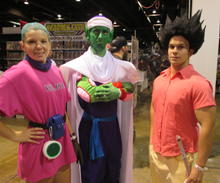 Bulma, Piccolo, and Goku, from
Dragon Ball Z
.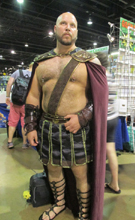 The nipple rings definitely complete this outfit.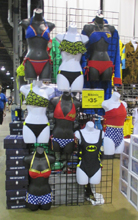 Sign of the times: women's superhero swimsuits at an apparel booth.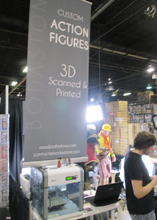 3D scanning and printing in a 10x10.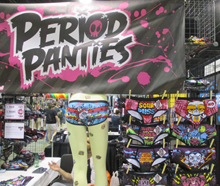 This whole display of "Period Panties" was really something. If you enlarge, NSFW.
Click here
for Part 2.