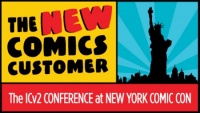 An ICv2 Release
. The audience for comics is changing rapidly, in ways that present the greatest opportunities for the medium since the 50s. New channels, formats, and content are reaching new customers, and the phenomenon appears to be growing by the day. This year's conference will look at these trends and where they're taking the business, with speakers from the forefront of the change.
To fit this unique time in the comics business, the topics discussed will also be unique, including the success stories of companies and people that have found ways to capitalize on the changing comics audience; the roles that new ways of getting comics to customers, including digital, are playing in this phenomenon; how the explosion in comic-related events plays into the trend; and what the people on the front lines of customer interaction are seeing.
The ICv2 Conference--The New Comics Customer will be held in association with New York Comic Con on Wednesday afternoon, October 8th at the Jacob Javits Convention Center in New York City. Plan to join us!
To register,
click here
.
For more information, see "
The ICv2 Conference--The New Comics Customer
."
Here are the speakers at the Conference:

Ted Adams
Ted Adams is IDW Publishing's CEO and Publisher. IDW has won numerous awards including five "Publisher of the Year" awards from DCD as well as dozens of Eisner and Harvey Awards. Adams was ranked as one of the Top 25 Most Powerful People in Comics by Bleeding Cool magazine and has been the keynote speaker at both the Diamond Retailer and ComicsPRO summits.

Christine Bohle
Christine Bohle is head of sports, festivals and consumer events marketing at Eventbrite where she leads a team focused on developing deep industry insights and understanding to help organizations create great live experiences to reach and engage their fans, foster community, inspire loyalty, and drive overall business growth.

Patrick Bradley
Executive Vice President Digital Media & Entertainment of Wizard World, Inc. Patrick is the consummate builder of businesses in Digital, Media & Entertainment with experience incubating start-up companies, executive level management, marketing, sales and business development in digital media, advertising, television, film and event marketing. As EVP of Wizard World Inc., Patrick leads all things digital, advertising and CONtv, a new OTT TV network launching in January--think "Netflix for the pop culture audience."

Jim Crocker
Jim Crocker is the General Manager and founder of Modern Myths, Inc., an independent storefront retail operation specializing in comic books, graphic novels, and tabletop hobby games with store in Northampton, MA (est. 2002) and Mamaroneck, NY (est 2012). He comes to the comics industry via mass market retail through Borders, Inc as an Inventory Manager and Vendor Liasion.

Shelton Drum
Shelton Drum founded his famous retail store, Heroes Aren't Hard to Find of Charlotte, North Carolina, in 1980, and started Heroes Convention, also in Charlotte, in 1982. The convention, which focuses exclusively on comics, has become one of the largest geek culture conventions in the southeast.

Lance Fensterman
Lance Fensterman is a Senior Vice President at Reed Exhibitions and has global leadership responsibilities for ReedPOP the quirky pop culture focused offshoot the he created. ReedPOP is the largest producer of pop culture events in the world. The ReedPOP portfolio encompasses 10 events in the United States and 11 events in globally, including New York Comic Con, Penny Arcade Expo, UFC Fan Expo, Star Wars Celebration, Comic Con India and Oz Comic Con. ReedPOP's focus is creating once in a lifetime experiences for fans and curating the hottest content from all corners of the world of popular culture.

Jon Goldwater
Jon Goldwater is the Publisher/Co-CEO of Archie Comics and oversees all of the company's major initiatives, including all publishing, licensing, mass media (motion pictures, television, animation) and more. Jon has spearheaded the company's recent resurgence in the public eye and revitalized the Archie Comics stable of characters. Under Jon's watchful eye, Archie has gained worldwide attention for a number of vibrant, status-quo challenging storylines.

Milton Griepp
Milton Griepp is the founder and President of ICv2, since 2001 the undisputed industry authority on the graphic novel and comic business. He is a 35-year veteran of the pop culture business, and has managed companies that have sold over $1 billion in retail value of pop culture products as CEO of Capital City Distribution and Next Planet Over.

Joseph Illidge
Joseph Illidge is the writer of "The Mission", a column for Comic Book Resources on diversity. A former editor for Milestone, Archaia, and Batman editor for DC Comics , Joseph is the co-writer of "The Ren", a graphic novel about the Harlem Renaissance to be published by First Second Books.

Terence Irvins
Terence Irvins has worked many years in retail, notably at Barnes and Noble among others and culminating as a manager at Midtown Comics. From there he was able to cultivate his retail experience with his life-long love of comics and apply them towards his current position as Graphic Novels and Comics Buyer at Kinokuniya Bookstore in New York City.

Sven Larsen
Sven Larsen began his career at Marvel Comics, where he eventually became Director of Marketing. He has also held positions at book publishers Little Brown & Penguin, children's media company Teshkeel, and Zemoga, a digital agency. He's currently VP of Marketing for Papercutz, a leader in kids graphic novel publishing.

Meg Lemke
Meg Lemke chairs the comics and graphic novel programming committee at the Brookyln Book Festival and is a contributing editor at MUTHA Magazine. As a book editor, she published titles like the
Best American Comics
series. Her writing has appeared in
The Paris Review
,
The Seattle Review
,
The Atlanta Review
, and other publications.

Heidi MacDonald
Heidi MacDonald is the editor-in-chief of The Beat, the go-to-source for nerd industry news. Covering comics, graphic novels, animation and related fields, The Beat is required morning reading for industry insiders and genre enthusiasts alike. MacDonald is a two-time Eisner Award nominee and winner of the 2011 Blog of the Year Shel Dorf Award. She is also the Graphic Novel Review editor for Publishers Weekly, and has worked as a consultant and editor for Disney, DC Comics, Fox, New York Comic Con, Trident Entertainment and many other companies.

Andrew McIntire
Andrew McIntire is the Vice President of Things From Another World, Inc. and a member of the board of the CBLDF. Prior to comics, he held management roles spanning graphic design, marketing, and operations across diverse industries. He, his wonderful wife, and their domestic menagerie live in Portland, Oregon.

Cassandra Pelham
Cassandra Pelham is a senior editor at Scholastic's Graphix imprint, where she works with bestselling and award-winning cartoonists including Jeff Smith, Raina Telgemeier, Kazu Kibuishi, and Mike Maihack. She lives in Brooklyn, New York. Twitter: @SeaEileen / @GraphixBooks

Calvin Reid
Calvin Reid is a senior news editor at
Publishers Weekly
with responsibility for comics and graphic novel coverage. He is also co-editor of PW Comics World, the magazine's e-mail comics newsletter.
Rob Salkowitz
Rob Salkowitz is author of Comic-Con and the Business of Pop Culture (McGraw-Hill, 2012) and other works examining how digital media, shifting demographics and globalization are disrupting business. He is a founding partner in MediaPlant, LLC, a Seattle-based digital communications firm, and teaches at the University of Washington Graduate School of Communications. Follow Rob on Twitter @robsalk and find more info at
http://www.robsalkowitz.com
.
David Steinberger
David Steinberger is the co-founder and CEO of comiXology, an Amazon.com, Inc. subsidiary (NASDAQ:AMZN), which has revolutionized the comic book and graphic novel industry by delivering a cloud-based digital comics platform that makes discovering, buying, and reading comics more fun than ever before. ComiXology features over 50,000 comics, graphic novels and manga from Marvel, DC and more than 75 top publishers, in exclusive cinematic Guided View. Steinberger holds an MBA from NYU | Stern School of Business, a Masters degree from Manhattan School of Music, and an Advanced Certificate from The Juilliard School.

Tucker Stone
Tucker Stone is the US Sales Marketing Director for Nobrow & Flying Eye Books, a British based comics and children's book publisher that expanded to the US in 2013. Prior to 2013, he was the manager of Bergen Street Comics in Brooklyn, New York, and remains the managing partner. He has been on the steering committee for the Museum of Cartoon and Comic Art since 2012.
More speakers are being added regularly--check back here!