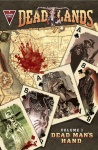 Pinnacle Entertainment Group has been having a bit of a renaissance with its
Deadlands
property, and has announced new licensing agreements for a graphic novel and a prose novel series. There are also expansions releasing for Alderac Entertainment Group's card game adaptation
Doomtown: Reloaded.
Visionary Comics, in partnership with IDW Publishing, will be publishing a graphic novel collection of the
Deadlands
comic one-shots originally published by Visionary and Image Comics (see "
Image Bringing 'Deadlands' RPG to Comics
") in March 2015. The
Dead Man's Hand
collection will include work by David Gallaher, Steve Ellis, Jimmy Palmiotti, Justin Gray, Lee Moder, Ron Marz, Bart Sears, Jeff Mariotte, Brook Turner, and Michael Atiyeh.
Tor Books will begin publishing a line of prose novels later in 2015, with three books by authors Jonathan Maberry, Seanan McGuire, and Jeff Mariotte. Release dates were not announced.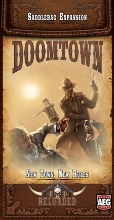 AEG will release two small "Saddlebag Expansions" for the
Doomtown: Reloaded
expandable card game (see "
'Doomtown: Reloaded'
") in Q4. The first expansion is
New Town, New Rules
, and the second expansion is
Double Dealin'
. Both expansions, sold separately, add 84 cards to the game (four copies each of 21 cards). The tuck box contains 84 cards and a story sheet. MSRP is $14.99 each.
The
Deadlands
property is also currently being developed for TV. Microsoft's Xbox Entertainment ordered a script based on the property this spring (see "
Xbox Announces Originals
").