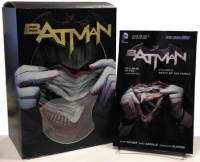 These are estimates of the sales on graphic novels by Diamond U.S. to comic specialty stores during September 2014.

For an overview and analysis of comic sales in September, see "Four Titles Over 100K in September."

For an analysis of the dollar trends in September, see "Comic Shop Market Turns Positive in Q3."

For our estimates of actual sales by Diamond U.S. from comic specialty stores on comic books shipped during September, see "Top 300 Comics Actual--September 2014."

| | | | | | |
| --- | --- | --- | --- | --- | --- |
| | | Top 300 GNs –September 2014 | | | |
| Rank | Index | Title | Price | Pub | Est.Qty |
| 1 | 11.19 | BATMAN DEATH OF THE FAMILY BOOK & JOKER MASK SET (N52) | $39.99 | DC | 14,305 |
| 2 | 4.86 | FOREVER EVIL HC (N52) | $24.99 | DC | 6,209 |
| 3 | 4.47 | YU GI OH 5DS GN VOL 06 | $9.99 | VIZ | 5,710 |
| 4 | 4.04 | GUARDIANS OF GALAXY TP VOL 02 ANGELA | $19.99 | MAR | 5,165 |
| 5 | 3.56 | WALKING DEAD HC VOL 10 (MR) | $34.99 | IMA | 4,550 |
| 6 | 3.09 | HARLEY QUINN VENGEANCE UNLIMITED TP | $19.99 | DC | 3,955 |
| 7 | 3.00 | SAGA TP VOL 01 (MR) | $9.99 | IMA | 3,834 |
| 8 | 2.99 | KICK-ASS 3 PREM HC (MR) | $29.99 | MAR | 3,819 |
| 9 | 2.94 | FATALE TP VOL 05 CURSE THE DEMON (MR) | $14.99 | IMA | 3,764 |
| 10 | 2.91 | SAGA TP VOL 03 (MR) | $14.99 | IMA | 3,716 |
| 11 | 2.81 | JUSTICE LEAGUE TP VOL 04 THE GRID (N52) | $16.99 | DC | 3,596 |
| 12 | 2.76 | SAGA TP VOL 02 (MR) | $14.99 | IMA | 3,533 |
| 13 | 2.70 | JUSTICE LEAGUE HC VOL 05 FOREVER HEROES (N52) | $22.99 | DC | 3,453 |
| 14 | 2.55 | MY LITTLE PONY FRIENDSHIP IS MAGIC TP VOL 05 | $17.99 | IDW | 3,255 |
| 15 | 2.44 | SUPERMAN WONDER WOMAN HC VOL 01 POWER COUPLE (N52) | $24.99 | DC | 3,114 |
| 16 | 2.38 | INFINITY TP | $49.99 | MAR | 3,048 |
| 17 | 2.31 | ADVENTURE TIME TP VOL 05 | $14.99 | BOO | 2,949 |
| 18 | 2.30 | FOREVER EVIL ARKHAM WAR TP (N52) | $16.99 | DC | 2,938 |
| 19 | 2.06 | REVIVAL TP VOL 04 ESCAPE TO WISCONSIN | $16.99 | IMA | 2,635 |
| 20 | 2.04 | SEX CRIMINALS TP VOL 01 (MR) | $9.99 | IMA | 2,604 |
| 21 | 1.92 | BPRD HELL ON EARTH TP VOL 09 REIGN OF BLACK FLAME | $19.99 | DAR | 2,449 |
| 22 | 1.86 | ALL NEW X-MEN PREM HC VOL 05 ONE DOWN | $24.99 | MAR | 2,372 |
| 23 | 1.85 | WALKING DEAD TP VOL 01 DAYS GONE BYE | $14.99 | IMA | 2,365 |
| 24 | 1.76 | WOODS TP VOL 01 | $9.99 | BOO | 2,256 |
| 25 | 1.74 | DEADPOOL TP VOL 01 DEAD PRESIDENTS NOW | $15.99 | MAR | 2,227 |
| 26 | 1.74 | Y THE LAST MAN TP BOOK 01 (MR) | $19.99 | DC | 2,224 |
| 27 | 1.72 | CYANIDE & HAPPINESS PUNCHING ZOO TP (MR) | $14.99 | BOO | 2,204 |
| 28 | 1.69 | NEW TEEN TITANS TP VOL 01 | $19.99 | DC | 2,165 |
| 29 | 1.69 | LEAVING MEGALOPOLIS HC | $14.99 | DAR | 2,154 |
| 30 | 1.66 | WINTER SOLDIER BY BRUBAKER COMPLETE COLLECTION TP | $29.99 | MAR | 2,127 |
| 31 | 1.66 | CHARLES BURNS SUGAR SKULL GN | $23.00 | RAN | 2,122 |
| 32 | 1.64 | JUSTICE LEAGUE OF AMERICA HC VOL 02 SURVIVORS OF EVIL (N52) | $24.99 | DC | 2,090 |
| 33 | 1.61 | BATWOMAN TP VOL 04 THIS BLOOD IS THICK (N52) | $14.99 | DC | 2,062 |
| 34 | 1.60 | BATMAN UNWRAPPED THE COURT OF OWLS HC | $39.99 | DC | 2,047 |
| 35 | 1.55 | NEW LONE WOLF AND CUB TP VOL 02 (MR) | $13.99 | DAR | 1,986 |
| 36 | 1.55 | BATMAN GORDON OF GOTHAM TP | $19.99 | DC | 1,980 |
| 37 | 1.53 | AVENGERS TP VOL 04 INFINITY | $19.99 | MAR | 1,959 |
| 38 | 1.53 | NEW AVENGERS TP VOL 02 INFINITY | $19.99 | MAR | 1,958 |
| 39 | 1.53 | DEADPOOL MINIBUS HC | $59.99 | MAR | 1,954 |
| 40 | 1.50 | UNCANNY AVENGERS TP VOL 03 RAGNAROK NOW | $19.99 | MAR | 1,916 |
| 41 | 1.47 | ULT COMICS SPIDER-MAN BY BENDIS TP VOL 05 | $19.99 | MAR | 1,877 |
| 42 | 1.45 | FOREVER EVIL ROGUES REBELLION TP (N52) | $16.99 | DC | 1,852 |
| 43 | 1.44 | ROVER RED CHARLIE TP VOL 01 (MR) | $19.99 | AVA | 1,838 |
| 44 | 1.43 | MERCENARY SEA TP VOL 01 | $9.99 | IMA | 1,830 |
| 45 | 1.42 | UNCANNY AVENGERS PREM HC VOL 04 AVENGE EARTH | $24.99 | MAR | 1,816 |
| 46 | 1.42 | SAVAGE SWORD OF CONAN TP VOL 17 | $19.99 | DAR | 1,809 |
| 47 | 1.40 | EAST OF WEST TP VOL 01 THE PROMISE | $9.99 | IMA | 1,794 |
| 48 | 1.40 | WALKING DEAD TP VOL 21 ALL OUT WAR PT 2 (MR) | $14.99 | IMA | 1,787 |
| 49 | 1.35 | UNCANNY X-MEN PREM HC VOL 04 VS SHIELD | $29.99 | MAR | 1,730 |
| 50 | 1.35 | UNWRITTEN TOMMY TAYLOR & THE SHIP THAT SANK TWICE TP (MR) | $14.99 | DC | 1,725 |
| 51 | 1.34 | BATMAN TP VOL 01 THE COURT OF OWLS (N52) | $16.99 | DC | 1,719 |
| 52 | 1.33 | ZERO TP VOL 02 AT THE HEART OF IT ALL (MR) | $14.99 | IMA | 1,706 |
| 53 | 1.33 | FOREVER EVIL BLIGHT TP (N52) | $24.99 | DC | 1,702 |
| 54 | 1.31 | AMAZING SPIDER-MAN EPIC COLLECTION TP GREAT POWER | $34.99 | MAR | 1,680 |
| 55 | 1.31 | MARVEL COVERS ARTIST ED HC (NET) | $75.00 | IDW | 1,676 |
| 56 | 1.29 | BATMAN THE KILLING JOKE SPECIAL ED HC | $17.99 | DC | 1,651 |
| 57 | 1.27 | ONE PIECE GN VOL 72 | $9.99 | VIZ | 1,617 |
| 58 | 1.26 | FOREVER EVIL ARGUS TP (N52) | $14.99 | DC | 1,605 |
| 59 | 1.23 | BRYAN LEE O MALLEY SECONDS GN | $25.00 | RAN | 1,568 |
| 60 | 1.21 | AW YEAH COMICS TP VOL 01 | $12.99 | DAR | 1,553 |
| 60 | 1.21 | ASTRO CITY THROUGH OPEN DOORS TP | $16.99 | DC | 1,553 |
| 62 | 1.21 | DEADLY CLASS TP VOL 01 REAGAN YOUTH (MR) | $9.99 | IMA | 1,549 |
| 63 | 1.18 | BATMAN TP VOL 02 THE CITY OF OWLS (N52) | $16.99 | DC | 1,510 |
| 64 | 1.17 | REGULAR SHOW ORIGINAL GN VOL 01 HYDRATION | $12.99 | BOO | 1,499 |
| 65 | 1.16 | SONS OF ANARCHY TP VOL 01 (MR) | $19.99 | BOO | 1,483 |
| 66 | 1.12 | RAT QUEENS TP VOL 01 SASS & SORCERY (MR) | $9.99 | IMA | 1,429 |
| 67 | 1.11 | CROSSED WISH YOU WERE HERE TP VOL 04 (MR) | $19.99 | AVA | 1,421 |
| 68 | 1.11 | PETER PANZERFAUST TP VOL 04 THE HUNT | $14.99 | IMA | 1,420 |
| 69 | 1.08 | JLA EARTH 2 TP NEW ED | $14.99 | DC | 1,380 |
| 70 | 1.07 | UBER TP VOL 02 (MR) | $19.99 | AVA | 1,369 |
| 71 | 1.07 | SHOWCASE CAPTAIN CARROT AND HIS AMAZING ZOO CREW TP | $19.99 | DC | 1,366 |
| 72 | 1.05 | ASTRO CITY VICTORY HC | $24.99 | DC | 1,344 |
| 73 | 1.03 | DEADPOOL BY DANIEL WAY COMPLETE COLL TP VOL 01 | $34.99 | MAR | 1,314 |
| 74 | 1.03 | BATMAN DARK KNIGHT RETURNS TP | $19.99 | DC | 1,311 |
| 75 | 1.02 | INDESTRUCTIBLE HULK TP VOL 03 SMASH TIME | $19.99 | MAR | 1,308 |
| 76 | 1.01 | INFINITY GAUNTLET TP | $24.99 | MAR | 1,292 |
| 77 | 1.01 | SIXTH GUN TP VOL 07 | $19.99 | ONI | 1,290 |
| 78 | 1.01 | BATMAN HUSH COMPLETE TP | $24.99 | DC | 1,287 |
| 79 | 1.00 | WATCHMEN TP | $19.99 | DC | 1,278 |
| 79 | 1.00 | DEADPOOL KILLS MARVEL UNIVERSE TP | $14.99 | MAR | 1,278 |
| 81 | 0.99 | MMW FANTASTIC FOUR HC VOL 16 | $69.99 | MAR | 1,269 |
| 82 | 0.99 | LONE WOLF & CUB OMNIBUS TP VOL 06 | $19.99 | DAR | 1,266 |
| 83 | 0.98 | BLACK SCIENCE TP VOL 01 HOW TO FALL FOREVER (MR) | $9.99 | IMA | 1,254 |
| 84 | 0.97 | WALKING DEAD TP VOL 02 MILES BEHIND US (NEW PTG) | $14.99 | IMA | 1,234 |
| 85 | 0.96 | FANTASTIC FOUR EPIC COLL WORLDS GREATEST COMIC MAG TP | $34.99 | MAR | 1,233 |
| 86 | 0.95 | AMULET SC VOL 06 ESCAPE FROM LUCIEN | $12.99 | SCH | 1,218 |
| 87 | 0.95 | UNDERTOW TP VOL 01 BOATMANS CALL (MR) | $14.99 | IMA | 1,217 |
| 88 | 0.94 | WRENCHIES GN | $19.99 | ST. | 1,205 |
| 89 | 0.92 | BATMAN TP VOL 03 DEATH OF THE FAMILY (N52) | $16.99 | DC | 1,171 |
| 90 | 0.91 | SERENITY SHEPHERDS TALE HC | $14.99 | DAR | 1,157 |
| 91 | 0.90 | VOID HC | $9.99 | RAN | 1,153 |
| 92 | 0.89 | EAST OF WEST TP VOL 02 WE ARE ALL ONE | $14.99 | IMA | 1,141 |
| 93 | 0.89 | SERENITY HC VOL 01 THOSE LEFT BEHIND 2ND ED | $17.99 | DAR | 1,139 |
| 94 | 0.89 | HAWKEYE TP VOL 01 MY LIFE AS WEAPON NOW | $16.99 | MAR | 1,133 |
| 95 | 0.87 | MOORCOCK ELRIC HC VOL 01 RUBY THRONE | $12.99 | RAN | 1,115 |
| 96 | 0.87 | GUARDIANS OF GALAXY TP VOL 01 COSMIC AVENGERS | $19.99 | MAR | 1,113 |
| 97 | 0.87 | AFTERLIFE WITH ARCHIE TP VOL 01 | $17.99 | ARC | 1,110 |
| 98 | 0.85 | DISNEY ROSA DUCK LIBRARY HC VOL 01 SCROOGE SON OF SUN | $29.99 | FAN | 1,090 |
| 99 | 0.83 | FABLES TP VOL 01 LEGENDS IN EXILE NEW ED (MR) | $12.99 | DC | 1,059 |
| 100 | 0.83 | BATMAN YEAR ONE DELUXE SC | $14.99 | DC | 1,057 |
| 101 | 0.82 | MEGA MAN TP VOL 07 BLACKOUT CURSE OF RA MOON | $11.99 | ARC | 1,049 |
| 102 | 0.79 | WITCHER TP VOL 01 | $17.99 | DAR | 1,011 |
| 103 | 0.79 | REVENGE SECRET ORIGIN OF EMILY THORNE PREM HC | $24.99 | MAR | 1,008 |
| 104 | 0.78 | MMW MIGHTY THOR TP VOL 05 | $24.99 | MAR | 999 |
| 105 | 0.78 | WALKING DEAD TP VOL 20 ALL OUT WAR PT 1 (MR) | $14.99 | IMA | 997 |
| 106 | 0.78 | EGOS TP VOL 01 QUINTESSENCE | $9.99 | IMA | 994 |
| 107 | 0.77 | X-MEN TP ASGARDIAN WARS NEW PTG | $29.99 | MAR | 988 |
| 108 | 0.77 | SANDMAN TP VOL 01 PRELUDES & NOCTURNES NEW ED (MR) | $19.99 | DC | 984 |
| 109 | 0.77 | BUMPERHEAD HC (MR) | $21.95 | DRA | 979 |
| 110 | 0.76 | SERENITY HC VOL 02 BETTER DAYS & OTHER STORIES | $19.99 | DAR | 976 |
| 111 | 0.75 | TMNT NEW ANIMATED ADVENTURES TP VOL 03 | $17.99 | IDW | 964 |
| 112 | 0.74 | EX MACHINA TP BOOK 03 (MR) | $19.99 | DC | 946 |
| 113 | 0.74 | MR PUNCH 20TH ANNIVERSARY ED HC (MR) | $34.99 | DC | 942 |
| 114 | 0.73 | LEGION OF SUPER HEROES THE CURSE TP | $29.99 | DC | 936 |
| 115 | 0.72 | X-MEN TP ADVENTURES OF CYCLOPS AND PHOENIX | $34.99 | MAR | 924 |
| 116 | 0.72 | BATTLE ANGEL ALITA LAST ORDER TP VOL 19 | $10.99 | RAN | 920 |
| 117 | 0.72 | LAZARUS TP VOL 01 (MR) | $9.99 | IMA | 919 |
| 118 | 0.71 | CIVIL WAR TP | $24.99 | MAR | 902 |
| 119 | 0.70 | HARBINGER TP VOL 05 DEATH OF A RENEGADE | $19.99 | VAL | 895 |
| 120 | 0.70 | MARTIAN MANHUNTER RINGS OF SATURN TP | $19.99 | DC | 894 |
| 121 | 0.70 | JOKER DEATH OF THE FAMILY TP (N52) | $24.99 | DC | 893 |
| 122 | 0.69 | SHOPLIFTER HC | $19.95 | RAN | 888 |
| 123 | 0.67 | QUANTUM & WOODY TP VOL 03 CROOKED PASTS PRESENT TENSE | $14.99 | VAL | 857 |
| 124 | 0.67 | STAR TREK ONGOING TP VOL 08 | $19.99 | IDW | 856 |
| 125 | 0.67 | V FOR VENDETTA NEW EDITION TP (MR) | $19.99 | DC | 852 |
| 126 | 0.66 | WALT DISNEY DONALD DUCK GN VOL 01 GHOST GROTTO | $12.99 | FAN | 846 |
| 127 | 0.66 | POWERPUFF GIRLS TP VOL 02 MONSTER MASH | $17.99 | IDW | 845 |
| 128 | 0.66 | THE INCAL HC NEW PTG (MR) | $44.95 | HUM | 843 |
| 129 | 0.66 | PRETTY DEADLY TP VOL 01 (MR) | $9.99 | IMA | 839 |
| 130 | 0.65 | GODZILLA AWAKENING TP | $12.99 | DC | 837 |
| 131 | 0.65 | JUSTICE LEAGUE TP VOL 01 ORIGIN (N52) | $16.99 | DC | 833 |
| 132 | 0.65 | FIVE WEAPONS TP VOL 02 TYLERS REVENGE | $12.99 | IMA | 826 |
| 133 | 0.64 | POKEMON ADVENTURES GN VOL 24 FIRERED LEAFGREEN | $9.99 | VIZ | 816 |
| 134 | 0.64 | WALKING DEAD TP VOL 03 SAFETY BEHIND BARS | $14.99 | IMA | 813 |
| 135 | 0.63 | FINDER THIRD WORLD TP | $19.99 | DAR | 807 |
| 136 | 0.63 | DEADPOOL KILLS DEADPOOL TP | $14.99 | MAR | 802 |
| 137 | 0.61 | WALKING DEAD TP VOL 19 MARCH TO WAR | $14.99 | IMA | 785 |
| 138 | 0.61 | ARCHIE GIANT COMICS DIGEST TP | $7.99 | ARC | 775 |
| 139 | 0.60 | JAYBIRD HC | $19.99 | DAR | 764 |
| 140 | 0.59 | TIME KILLERS GN | $14.99 | VIZ | 757 |
| 141 | 0.59 | JUDGE DREDD MEGA CITY TWO TP | $19.99 | IDW | 754 |
| 142 | 0.59 | TOE TAGS FEATURING GEORGE ROMERO TP (MR) | $14.99 | DC | 753 |
| 143 | 0.59 | BATMAN THE LONG HALLOWEEN TP | $24.99 | DC | 752 |
| 144 | 0.59 | LOCKE & KEY TP VOL 01 WELCOME TO LOVECRAFT | $19.99 | IDW | 750 |
| 145 | 0.59 | STRAIN TP VOL 03 THE FALL | $19.99 | DAR | 749 |
| 146 | 0.58 | AUTEUR TP VOL 01 (MR) | $19.99 | ONI | 744 |
| 147 | 0.58 | MARVEL UNIVERSE ULT SPIDER-MAN DIGEST TP VOL 07 | $9.99 | MAR | 737 |
| 148 | 0.58 | ATTACK ON TITAN GN VOL 01 | $10.99 | RAN | 736 |
| 149 | 0.56 | FLASH OMNIBUS HC VOL 01 | $99.99 | DC | 722 |
| 150 | 0.56 | WALKING DEAD TP VOL 04 HEARTS DESIRE | $14.99 | IMA | 721 |
| 151 | 0.56 | LEGAL DRUG OMNIBUS TP | $19.99 | DAR | 717 |
| 152 | 0.56 | WALKING DEAD COMPENDIUM TP VOL 01 (MR) | $59.99 | IMA | 710 |
| 153 | 0.55 | CARBON GREY TP VOL 03 MOTHERS OF THE REVOLUTION | $14.99 | IMA | 708 |
| 154 | 0.55 | FABLES TP VOL 02 ANIMAL FARM | $14.99 | DC | 707 |
| 155 | 0.55 | HAWKEYE TP VOL 02 LITTLE HITS NOW | $16.99 | MAR | 705 |
| 156 | 0.55 | GOD IS DISAPPOINTED IN YOU HC | $19.95 | TOP | 699 |
| 157 | 0.53 | PREACHER TP BOOK 01 (MR) | $19.99 | DC | 682 |
| 157 | 0.53 | AVENGERS VS X-MEN TP AVX | $34.99 | MAR | 682 |
| 159 | 0.53 | ROCKETEER JET PACK ADVENTURES PROSE SC | $19.99 | IDW | 681 |
| 160 | 0.53 | GHOST TP VOL 02 WHITE CITY BUTCHER (MR) | $14.99 | DAR | 676 |
| 161 | 0.53 | TRANSFORMERS PHASE ONE OMNIBUS TP | $29.99 | IDW | 675 |
| 162 | 0.52 | THANOS INFINITY REVELATION OGN HC | $24.99 | MAR | 670 |
| 163 | 0.52 | KINGDOM COME TP NEW PTG | $19.99 | DC | 666 |
| 163 | 0.52 | MAXX MAXXIMIZED HC VOL 02 | $21.99 | IDW | 666 |
| 165 | 0.52 | FLASH TP VOL 01 MOVE FORWARD (N52) | $16.99 | DC | 665 |
| 166 | 0.52 | GFT ROBYN HOOD LEGEND TP VOL 01 | $15.99 | ZEN | 660 |
| 167 | 0.50 | BILLY THE KIDS OLD TIMEY ODDITIES OMNIBUS TP | $24.99 | DAR | 635 |
| 168 | 0.50 | STRAIN TP VOL 02 | $19.99 | DAR | 633 |
| 169 | 0.49 | NISEKOI FALSE LOVE GN VOL 05 | $9.99 | VIZ | 631 |
| 170 | 0.49 | WALKING DEAD TP VOL 18 WHAT COMES AFTER | $14.99 | IMA | 626 |
| 171 | 0.49 | WALKING DEAD TP VOL 05 BEST DEFENSE (NEW PTG) | $14.99 | IMA | 622 |
| 172 | 0.48 | DEADPOOL TP VOL 05 WEDDING OF DEADPOOL | $15.99 | MAR | 617 |
| 173 | 0.47 | TMNT ORIGINAL MOTION PICTURE SP ED HC | $29.99 | IDW | 602 |
| 174 | 0.47 | CASTLE TP CALM BEFORE STORM | $15.99 | MAR | 598 |
| 175 | 0.47 | OZ OMNIBUS HC | $125.00 | MAR | 597 |
| 176 | 0.47 | WALKING DEAD TP VOL 17 SOMETHING TO FEAR (MR) | $14.99 | IMA | 596 |
| 177 | 0.46 | MANIFEST DESTINY TP VOL 01 | $9.99 | IMA | 593 |
| 177 | 0.46 | DEADPOOL TP VOL 02 SOUL HUNTER NOW | $15.99 | MAR | 593 |
| 179 | 0.46 | WONDER WOMAN TP VOL 01 BLOOD (N52) | $14.99 | DC | 587 |
| 179 | 0.46 | Y THE LAST MAN TP VOL 01 UNMANNED | $14.99 | DC | 587 |
| 179 | 0.46 | DEADPOOL TP VOL 04 DEADPOOL VS SHIELD | $15.99 | MAR | 587 |
| 182 | 0.46 | FOUR HORSEMEN O/T APOCALYPSE HC | $24.99 | RAN | 586 |
| 183 | 0.46 | SOUL EATER TP VOL 22 (MR) | $13.00 | HAC | 582 |
| 184 | 0.45 | SALLY HEATHCOTE SUFFRAGETTE HC | $19.99 | DAR | 581 |
| 185 | 0.45 | FEAR AGENT TP VOL 06 2ND ED OUT OF STEP | $16.99 | DAR | 574 |
| 186 | 0.45 | DEADPOOL CLASSIC TP VOL 01 | $29.99 | MAR | 573 |
| 186 | 0.45 | DRAGON BALL 3IN1 TP VOL 06 | $14.99 | VIZ | 573 |
| 188 | 0.45 | MADDY KETTLE GN VOL 01 ADV OF THE THIMBLEWITCH | $14.95 | TOP | 570 |
| 188 | 0.45 | MARCH GN BOOK 01 | $14.95 | TOP | 570 |
| 190 | 0.44 | NIGHT OF LIVING DEADPOOL TP | $16.99 | MAR | 568 |
| 191 | 0.44 | ROCKY & BULLWINKLE MOOSE ON THE LOOSE TP | $17.99 | IDW | 565 |
| 192 | 0.44 | NORAGAMI STRAY GOD GN VOL 01 | $10.99 | RAN | 563 |
| 193 | 0.44 | CHEW TP VOL 01 (MR) | $9.99 | IMA | 562 |
| 194 | 0.44 | JUDGE DREDD (IDW) TP VOL 05 | $17.99 | IDW | 559 |
| 195 | 0.43 | SANDMAN TP VOL 02 THE DOLLS HOUSE NEW ED (MR) | $19.99 | DC | 556 |
| 196 | 0.43 | SERAPH OF END VAMPIRE REIGN GN VOL 02 | $9.99 | VIZ | 555 |
| 197 | 0.43 | AGE OF ULTRON TP | $34.99 | MAR | 553 |
| 198 | 0.43 | GOTG BY ABNETT AND LANNING COMPLETE COLL TP VOL 01 | $34.99 | MAR | 550 |
| 199 | 0.42 | MMW FAMOUS FIRSTS 75TH ANNIV SLIPCASE SET | $500.00 | MAR | 541 |
| 200 | 0.42 | INJUSTICE GODS AMONG US TP VOL 01 | $14.99 | DC | 538 |
| 201 | 0.42 | RED MOON HC | $24.99 | DAR | 533 |
| 201 | 0.42 | DEADPOOL VS CARNAGE TP | $16.99 | MAR | 533 |
| 201 | 0.42 | GIRLS UND PANZER GN VOL 02 | $12.99 | ST. | 533 |
| 204 | 0.41 | MANHATTAN PROJECTS TP VOL 01 SCIENCE BAD | $14.99 | IMA | 522 |
| 205 | 0.41 | WALKING DEAD COMPENDIUM TP VOL 02 (MR) | $59.99 | IMA | 520 |
| 206 | 0.41 | SUB MARINER AND ORIGINAL HUMAN TORCH TP | $39.99 | MAR | 518 |
| 207 | 0.40 | FURIOUS TP VOL 01 FALLEN STAR | $17.99 | DAR | 517 |
| 208 | 0.40 | SIN CITY NEW MILLER CVR TP VOL 01 HARD GOODBYE (MR) NOTE PRI | $19.00 | DAR | 516 |
| 209 | 0.40 | FATALE TP VOL 01 DEATH CHASES ME (MR) | $14.99 | IMA | 513 |
| 210 | 0.40 | NEXUS OMNIBUS TP VOL 06 | $24.99 | DAR | 507 |
| 210 | 0.40 | NARUTO 3IN1 TP VOL 09 | $14.99 | VIZ | 507 |
| 212 | 0.40 | GFT AGE OF DARKNESS TP VOL 03 | $15.99 | ZEN | 506 |
| 213 | 0.39 | FABLES TP VOL 03 STORYBOOK LOVE (MR) | $17.99 | DC | 504 |
| 213 | 0.39 | SUPERIOR SPIDER-MAN TP VOL 01 MY OWN WORST ENEMY NOW | $17.99 | MAR | 504 |
| 215 | 0.39 | TRILLIUM TP (MR) | $16.99 | DC | 501 |
| 216 | 0.39 | EARTH 2 TP VOL 01 THE GATHERING (N52) | $14.99 | DC | 500 |
| 217 | 0.39 | RANMA 1/2 2IN1 TP VOL 04 | $14.99 | VIZ | 498 |
| 218 | 0.39 | TERRA FORMARS GN VOL 02 (MR) | $12.99 | VIZ | 497 |
| 219 | 0.39 | GRIMM FAIRY TALES DIFFERENT SEASONS TP VOL 04 | $15.99 | ZEN | 496 |
| 220 | 0.39 | BLUE ESTATE GRAPHIC NOVEL HC (MR) | $29.99 | IMA | 494 |
| 221 | 0.38 | BATMAN EARTH ONE TP | $12.99 | DC | 487 |
| 221 | 0.38 | ALICE I/T COUNTRY OF CLOVER KNIGHTS KNOWLEDGE GN VOL 02 (MR) | $13.99 | ST. | 487 |
| 223 | 0.38 | WOLVERINE OLD MAN LOGAN TP | $29.99 | MAR | 486 |
| 224 | 0.38 | SUICIDE SQUAD TP VOL 01 KICKED IN THE TEETH (N52) | $14.99 | DC | 482 |
| 224 | 0.38 | GENSHIKEN SECOND SEASON GN VOL 05 | $10.99 | RAN | 482 |
| 226 | 0.38 | ROCKET RACCOON AND GROOT COMPLETE COLLECTION TP | $29.99 | MAR | 481 |
| 227 | 0.38 | JUSTICE LEAGUE TP VOL 02 THE VILLAINS JOURNEY (N52) | $16.99 | DC | 480 |
| 228 | 0.37 | AQUAMAN TP VOL 01 THE TRENCH (N52) | $14.99 | DC | 479 |
| 228 | 0.37 | DEADPOOL KILLUSTRATED TP | $14.99 | MAR | 479 |
| 230 | 0.37 | DANCE IN VAMPIRE BUND MEMORIES OF SLEDGE HAMMER GN VOL 03 (M | $13.99 | ST. | 475 |
| 231 | 0.37 | NIGHTWING TP VOL 01 TRAPS AND TRAPEZES (N52) | $14.99 | DC | 473 |
| 231 | 0.37 | BLACK WIDOW TP VOL 01 FINELY WOVEN THREAD | $17.99 | MAR | 473 |
| 233 | 0.37 | DEADPOOL BY DANIEL WAY COMPLETE COLL TP VOL 02 | $34.99 | MAR | 469 |
| 234 | 0.36 | I AM ALICE BODY SWAP IN WONDERLAND GN VOL 01 (MR) | $13.99 | ST. | 466 |
| 235 | 0.36 | SIN CITY NEW MILLER CVR TP VOL 02 DAME KILL | $19.00 | DAR | 465 |
| 235 | 0.36 | ROCKET GIRL TP VOL 01 TIMES SQUARED | $9.99 | IMA | 465 |
| 237 | 0.36 | BATMAN HC VOL 04 ZERO YEAR SECRET CITY (N52) | $24.99 | DC | 462 |
| 237 | 0.36 | BLACKEST NIGHT TP | $19.99 | DC | 462 |
| 237 | 0.36 | CROW PESTILENCE TP | $17.99 | IDW | 462 |
| 240 | 0.36 | SKIP BEAT GN VOL 33 | $9.99 | VIZ | 461 |
| 241 | 0.36 | SPICE AND WOLF GN VOL 09 (MR) | $13.00 | HAC | 458 |
| 242 | 0.36 | BATMAN DETECTIVE COMICS TP VOL 01 FACES OF DEATH (N52) | $16.99 | DC | 454 |
| 242 | 0.36 | V FOR VENDETTA BOOK AND MASK SET (MR) | $24.99 | DC | 454 |
| 244 | 0.35 | REVIVAL TP VOL 01 YOU'RE AMONG FRIENDS | $12.99 | IMA | 450 |
| 245 | 0.35 | GRAVEL TP VOL 04 COMBAT MAGICIAN (MR) | $19.99 | AVA | 448 |
| 246 | 0.35 | FABLES TP VOL 20 CAMELOT (MR) | $19.99 | DC | 445 |
| 247 | 0.35 | LAZARUS TP VOL 02 LIFT (MR) | $14.99 | IMA | 444 |
| 248 | 0.35 | COMPLETE SILENCERS TP | $19.99 | DAR | 443 |
| 248 | 0.35 | SUPERMAN RED SON TP NEW EDITION | $17.99 | DC | 443 |
| 250 | 0.34 | FABLES TP VOL 04 MARCH OF THE WOODEN SOLDIERS (MR) | $17.99 | DC | 431 |
| 250 | 0.34 | WALKING DEAD TP VOL 10 WHAT WE BECOME | $14.99 | IMA | 431 |
| 252 | 0.34 | ADVENTURE TIME TP VOL 02 | $14.99 | BOO | 430 |
| 253 | 0.34 | WALKING DEAD TP VOL 06 SORROWFUL LIFE (NEW PTG) (SEP088207) | $14.99 | IMA | 429 |
| 253 | 0.34 | ART OF PRINCESS MONONOKE HC | $34.99 | VIZ | 429 |
| 255 | 0.33 | MAYO CHICKI GN VOL 07 (MR) | $12.99 | ST. | 428 |
| 256 | 0.33 | RED HOOD AND THE OUTLAWS TP VOL 01 REDEMPTION (N52) | $14.99 | DC | 426 |
| 257 | 0.33 | LOCKE & KEY TP VOL 02 HEAD GAMES | $19.99 | IDW | 422 |
| 257 | 0.33 | SCOTT PILGRIM COLOR HC VOL 05 | $24.99 | ONI | 422 |
| 259 | 0.33 | ACCEL WORLD GN VOL 01 | $13.00 | HAC | 421 |
| 259 | 0.33 | WALKING DEAD TP VOL 07 THE CALM BEFORE | $14.99 | IMA | 421 |
| 259 | 0.33 | BLEACH 3IN1 TP VOL 09 | $14.99 | VIZ | 421 |
| 262 | 0.33 | WALKING DEAD TP VOL 09 HERE WE REMAIN (MR) | $14.99 | IMA | 420 |
| 262 | 0.33 | DEADPOOL BY DANIEL WAY COMPLETE COLL TP VOL 04 | $34.99 | MAR | 420 |
| 264 | 0.33 | GOD HATES ASTRONAUTS TP VOL 01 (MR) | $17.99 | IMA | 417 |
| 265 | 0.33 | AVATAR LAST AIRBENDER TP VOL 01 PROMISE PART 1 | $10.99 | DAR | 416 |
| 266 | 0.32 | THUNDER AGENTS THE BEST OF WALLY WOOD HC | $34.99 | IDW | 415 |
| 266 | 0.32 | WALKING DEAD HC VOL 01 (MR) | $34.99 | IMA | |