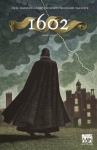 The subject of Marvel's Friday news conference was 1602, the eight-issue mini-series by Neil Gaiman and Andy Kubert.

Neil Gaiman was on hand to describe this daring project, set some 400 years ago in a late Elizabethan world in which analogues of the key pre-1968 Marvel characters are deeply involved in the intrigues of the day.

Thus Sir Nicholas Fury heads Elizabeth's intelligence service and Dr. Steven Strange is the court physician, while Carlos Javier and a group of 'witchbreeds' have fled the Inquisition in Spain and taken refuge in England.

In Scotland King James is spouting his own brand of intolerance, and there is the little matter of a secret shipment from the Knights Templar that Fury's top agent, the blind Irish ballad singer Matthew Murdock is trying to recover.

Toss in some strange occurrences at England's first American settlement at Roanoke and you gain some idea of the scope of Gaiman's intriguing historical narrative.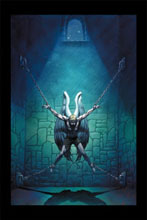 Gaiman explained that the concept for 1602 came to him in the aftermath of 9/11. He decided that he didn't want to include airplanes, bombs, guns, or skyscrapers in the project he was preparing for Marvel, when suddenly the idea of superimposing the Marvel Universe on the Elizabethan era came to him. Gaiman, who made excellent use of a number of different historical settings for his Sandman series, is quite expert at this sort of historical comic book fiction. When asked why he chose this particular era, Gaiman replied that the political conditions allowed him to explore the theme of intolerance, and the explorations done during the period permitted him to add some American elements to the story. He failed to mention that the Elizabethan setting also allows the Marvel heroes to dress in tights and remain inconspicuous when walking down the street.
1602
, which debuts in August, will be the first comic book that Gaiman has had published in seven years and it will be followed in short order by Sandman: Endless Nights and Wolves in the Walls, an all-ages graphic novel done with Dave McKean (see 'Neil Gaiman's Triumphant Return To Comics').

Gaiman will support these releases with a frenetic press schedule which will include numerous interviews, a major 'insert' in Publisher Weekly, an article in Entertainment Weekly, plus coverage in Spin and other publications.

As Gaiman put it, 'People will be completely sick of me by October.'