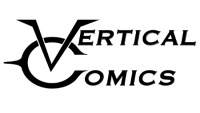 Vertical Inc. is splitting its publishing into two imprints, the company announced. New manga and anime-themed art books will be published under the Vertical Comics imprint, and translated Japanese prose will be published under the Vertical imprint. For consistency, current series will continue to carry the Vertical trade dress; new manga series will carry the Vertical Comics imprint.
Titles to be published under the new imprint include
Witchcraft Works, Garden of Words, Prophecy, My Neighbor Seki, Dream Fossil: The Complete Short Works of Satoshi Kon
, and
The Art of Makoto Shinkai: A Sky Longing for Memories
.
In its prose line, Vertical has announced two more
Attack on Titan
light novels, for 2015; the series launched earlier this year (see "
'Attack on Titan' Light Novels
").
"As a follow-up to our most recent one,
Attack on Titan: Before the Fall
, we'll be releasing
Attack on Titan: Kyklo
, which was recently adapted and is about to be turned into an animation by Kodansha and King Records," Vertical Marketing Director Ed Chavez told ICv2. "It's about a young child found inside the stomach of a slaughtered titan. This kid ends up growing up among the poor troops that end up fighting titans. This is a bit of a predecessor to what happens in the animation."
Kyklo
will be released in May or June 2015.
"In September of next year we'll be releasing a completely new story called
Attack on Titan: Harsh Mistress of the City
," Chavez continued. "What's cool about this is it has a lot of art by Range Murata, who has done a lot of things in the west before, for example the
Robot
series that Udon published recently. He was the character designer for
Last Exile
and
Blue Submarine No. 6.
This is another fantasy title that revolves around another colony, not the one that's mainly the
Attack on Titan
. You get another perspective of how they deal with titans and their unique seaside setting."