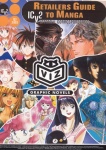 ICv2 has announced that it is currently releasing its third ICv2 Retailers Guide to Anime/Manga. The Guide is being distributed to members of the trade at Anime Expo, being held this weekend in Anaheim, California, and will be distributed to all accounts of Diamond and Alliance in upcoming shipments, as well as through other means.
This is the first quarterly issue of this publication, which had previously been released on an irregular schedule. 'These categories are the most dynamic of any we cover,' said ICv2 publisher Milton Griepp, 'and with that pace of change we needed to establish a regular frequency to cover it.
The content includes mid-year market updates with some surprising results (see 'Mid-Year Anime and Manga Market Updates'), an overview of the top properties in both categories, an update on TV exposure for anime properties, coverage of the mass merchant interest in the categories, listings of key upcoming releases in both categories, and much more.

The Guide is available free to requesting retailers (send an e-mail to Dviau@icv2.com) and to others for $10 through the ICv2 online store (click here).