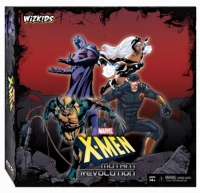 WizKids will release the
X-Men: Mutant Revolution
strategy board game on March 18th.
Set in the aftermath of the Phoenix event, players take the role of one of four iconic mutants (Wolverine, Cyclops, Magneto, or Storm), and attempt to spread their unique visions of the future across the globe. Players recruit heroes and students, train their teams, and send them on missions, battling for the future of mutant-kind. Gameplay is based on Gale Force Nine's
Spartacus: A Game of Blood and Treachery
(see "
'Spartacus' Board Game
").
The box contains 4 character figures, 24 dice, 269 custom tokens, 157 cards, 4 custom bidding dials, and a game board. The game is for 2-4 players, ages 14 and up. MSRP is $49.99.