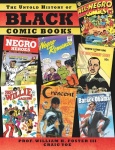 IDW Publishing and Yoe Books will release
The Untold History of Black Comic Books
in February.
The book is authored by Professor William H. Foster III, a leading authority on the history of African-American cartoonists and comics, and comic book historian Craig Yoe. The book covers the changing image of African-Americans in comic books from the 1940s to the present day. It also includes nearly 200 pages of rarely seen comic book stories which have never seen reprint.
The 9" x 12" full-color hardcover has 252 pages, and has an MSRP of $39.99.
"This book is important to me on several levels," said Foster. "It is not just the culmination of years of research. It is the latest chapter in my efforts to illuminate the forgotten corners of comic book history. Despite the fact that I have been a fan, collector, and historian for comics for many years, I still meet people in and out of the comic industry who say they have never seen, or heard of black comic books. Incidents like that used to depress me. Nowadays I just smile and say, 'Well, let me tell you a story...'"