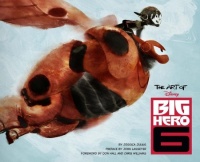 The Art of Big Hero 6 HC
Publisher: Chronicle Books
Release Date: October 28, 2014
Price: $40.00
Creator: Jessica Julius
Format: 168 pgs., Full-Color, Hardcover
ISBN: 978-1-4521-2221-2
Age Rating: 14+
ICv2 Rating: 5 stars out of 5
This behind the scenes look at the development of Disney Animation Studios' latest feature presents everything from sketches to storyboards to finished artwork. It also includes a preface by Pixar/Walt Disney chief executive officer John Lasseter and foreword by Don Hall and Chris Williams, the directors of the film. And while it's not technically the story of the making of the movie it does feature insights and anecdotes from the films creators that show how the story and characters evolved in sometimes unexpected ways.
For instance, some Marvel fans have taken offense at how the first Disney/Marvel movie has so little to do with the original comics. But it was Joe Quesada, Chief Creative Officer of Marvel Entertainment, who came up with the idea that the film should focus on the story of a boy and his robot. And surprising, to me anyway, was the number of well known comic book artists who worked on the film, including Geoff Darrow and John Romita, Jr.
But of course this is primarily an art book and it's interesting seeing how many different permutations the now familiar characters went through. Like, at one point Go-Go, Fred and even Aunt Cass were all supposed to have tattoos, until someone at Disney apparently had second thoughts. And it's amazing to see just the meticulous amount of detail that went into the world building behind the creation of San Fransokyo the film's setting. This is a fun, informative book for both diehard fans of the movie or anyone with any interest in animation.
--
Steve Bennett: Writer and retail services consultant.