White Fox, a new character who's been part of the Avengers in a special Marvel webtoon being serialized on the Korean portal Daum, will be joining the Marvel universe and be featured in its American comics, Marvel SVP C. B. Cebulski announced at the DICON conference in Seoul today. The character, who was created by Korean comic creator Young hoon Ko, is based on the Korean myth of the nine-tailed fox.
The
Avengers Electric Rain
webtoon by Ko, now on its sixth episode, is being created as a way for Marvel to experiment with the Korean webtoon format, which features serialized stories presented on web pages or in apps in a vertically scrolling format. The Korean webtoon format is blowing up there, supplanting print comics, and providing content for films that are proving increasingly popular around the world. The origin of White Fox will appear in the ninth installment, due out soon.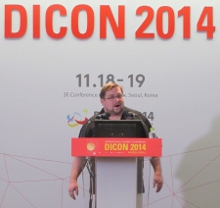 Ko created the character himself and brought it to Marvel, who approved it with minor tweaks. Now that the story is getting a big reception in Korea, the decision has been made to bring the character into the U.S. comics continuity.