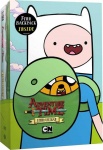 After several weeks with dozens of releases, the action slows down on the home entertainment front, but there are some interesting offerings including an
Adventure Time
disc with a Finn backpack, the new-to-DVD second season of the satirical
Better Off Ted
, a collection of the coherence-challenged
Drunk History
rants, and a classy new edition of the marvelous P.G. Wodehouse
Jeeves & Wooster
collection, plus the most popular
Naruto
movie ever.
TV on DVD
The top animated release in what is a weak slate for this category is
Adventure Time, Vol. 8: Finn the Human
(Warner Bros., 176 min., $24.98), which includes 16 hilarious
Adventure Time
episodes gleaned from a number of different seasons—but what makes this set attractive to collectors is the "totally rad" Finn Backpack that comes with this limited edition.
There are a few gems for savvy viewers coming out this week including the DVD debut of
Better Off Ted: The Complete Second Season
(Olive Films, 285 min., $34.95), which collects the final season of the satirical sitcom created by Victor Fresco (
Andy Richter Controls the Universe
) and set in the bowels of a soulless corporation. Though beloved by critics,
Better Off Ted
never caught on with viewers, but its takedown of the excesses of "corporate culture" are spot-on and it has maintained a steady cult following through the years.
A hipster favorite, the award-winning web series "Drunk History" gave rise to the Comedy Central series shepherded by Will Farrell and Adam McCay, which is available now in the
Drunk History: Seasons 1 & 2 Limited Edition
(Comedy Central, 156 min., $29.98), which includes all the bumbling, incoherent "historical" narratives from the show that are presented here completely uncensored in this 3-disc set, which comes in "collectible leather packaging."
Connoisseurs of the snide will doubtless enjoy
Mystery Science Theater 3000: XXXI—The Turkey Day Collection
(Shout Factory, $64.99), which includes four "B" films that get on-going sarcastic commentaries from the
MST3K
crew. The films included in this collection are
Jungle Goddess, The Painted Hills, The Screaming Skull,
and
Squirm
.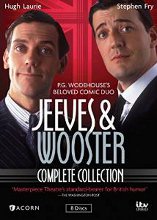 The best U.K. release here in the States this week is the
Jeeves & Wooster Complete Collection
(Acorn Media, 1200 min., $59.99), an 8-disc set that includes all 23 episodes of the superb adaptation of the P.G. Wodehouse stories starring Hugh Laurie (
House
) as the bumbling Bertie Wooster and Stephen Fry as his whip smart servant, the unflappable Jeeves. Extremely well-produced, and consistently funny,
Jeeves and Wooster
remains the most delightful adaptation of Wodehouse in any medium.
Those who like English police procedurals will also be interested in
Inspector Lewis: Series 7
(PBS, $34.98), a spin-off from the
Inspector Morse
series that is also set in Oxford, and which features Kevin Whately as Robbie Lewis, who was Morse's Sergeant in the original series, but has now been promoted to detective.
Anime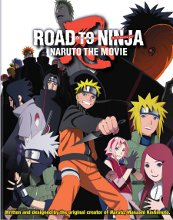 This week's top release is
Naruto Shippuden the Movie 6: Road to Ninja
(Viz Media, $19.98, BD/DVD Combo $29.98), the ninth
Naruto
movie and the sixth
Naruto Shippuden
movie, which was released in Japan in July of 2012 and quickly became the highest-grossing of all the
Naruto
films, earning nearly $20 million at the box office and coming in at #29 among all Japanese films in 2012. The
Road to Ninja
film is set between the
Kage Summit
and the
Fourth Great War
arcs—and
Naruto
fans will definitely want this feature length-adventure that set box office records for the franchise in Japan.
Also new this week is the
Amagami SS Complete Collection
(Sentai Filmworks, 600 min., $69.98, BD $89.98), which includes all 26 episodes of the 2010 AIC TV anime that is based on a popular dating sim game created by Enterbrain. This subtitles-only show is a fairly gentle, feel-good, slice-of-life relationship drama that is definitely one of the better anime series based on a dating video game.
Those who enjoy
Tron
-type or
Sword Art Online
-type sagas in which folks get sucked into a video game world, should check out
Log Horizon Collection 1
(Sentai Filmworks, 325 min., $59.98, BD $69.98), which collects the first half of the 25 episode 2013 Satelight series based on the novels written by Mamare Touno.
Theatrical Films
This week's theatrical offerings are especially weak. Action movie fans might go for
The Expendables 3
(Lionsgate, "R," 110 min., $29.95, BD $39.99), which, in spite of adding even more "stars" to the mix, didn't please the critics (garnering only 33% positive rating on review aggregator Rotten Tomatoes), and only earned $39.3 million, which was less than half of
Expendables 2
($85 million).
The most interesting film of this week might be
The Giver
(The Weinstein Company, "PG-13," $29.98, $39.99), which is based on the dystopian YA novel by Lois Lowry, which came out in 1993 and heavily influenced
The Hunger Games
novels, but today's critics thought it was
The Giver
that was ripping off
The Hunger Games
. In any case those who aren't already sick of dystopian teen dramas would do well to check out
The Giver
, which features a strong cast that includes Jeff Bridges, Meryl Streep, Brenton Thwaites, Katie Holmes and Taylor Swift.
Those who enjoy espionage dramas might want to see
The November Man
(Fox, "R," 109 min., $29.98, $39.99), which stars Pierce Brosnan in a predictable, but still enjoyable spy yarn that leaves plenty of unanswered plot points, but still moves fast enough to keep your interest.
The only film out this week with a strong rating from the critics is the Canadian romcom
What If
(Sony, "PG-13," 90 min., $30.99, BD $35.99), which stars Daniel Radcliffe and Zoe Kazan, both of whom giving winning performances in what remains a predictable narrative, but the film's 69% positive rating on Rotten Tomatoes is good for a romcom and gives you an idea that this film is not without its charms.
Tyler Perry remains one of the most prolific and protean African-American filmmakers working today, but
Tyler Perry's A Madea Christmas
(Lionsgate, "PG-13," 100 min., $29.99, BD $39.99) is one of his weakest efforts and is recommended only for the actor/director/writer/producer's most fervent fans.
--
Tom Flinn
The opinions expressed in this column do not necessarily reflect those of the editorial staff of ICv2.com.