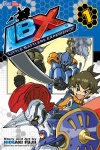 LBX: New Dawn Raisers Vol. 1 TP
Publisher: Perfect Square
Release Date: November 4, 2014
Price: $9.99
Creator: Hideaki Fujii
Format: 192 pgs., Black & White, Trade Paperback
ISBN: 978-1-4215-7695-4
Age Rating: 7 - 10 years
ICv2 Rating: 3 stars out of 5
In 2050 the year's hot new toy is
LBX
, a.k.a.
Little Battlers eXperience
, a fighting game for small robots made out of a new incredibly durable cardboard. Everyone has one, except Van Yamano, son of the man who invented them. But then he's given a
LBX
which has hidden inside it the formula for a limitless form of energy, something that must be kept out of the hands of the subversive covert group called the New Dawn Raisers at all costs.
LBX
follows the well worn manga and anime formula of having ordinary kids battle the forces of evil by playing with their toys. There isn't a lot to differentiate this variation on the theme, other than the fact these little robots are made out of cardboard (the Japanese title is literally "Cardboard war-machines"). It's something the manga avoids addressing for the most part, except for a gag page where Van and his friends are shown wearing corrugated boxes.
I personally prefer my robots giant-sized but other than that there's little to fault in
LBX
. The art is attractive, characters likeable and the robot battles well staged, and it doesn't hurt it also effortlessly manages to fold in 'messages' about the power of friendship and importance of practice. And while some of the characters are eccentric (in particular chief villain Cillian Kaido Cillian Kaido who wears a wig making him look like a cross between Mozart and a British barrister) they're at least structurally sound. Adults will find this utterly unoffensive and kids should really enjoy it.
--
Steve Bennett: Writer and retail services consultant.