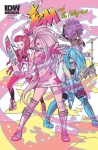 IDW Publishing has announced details for the new ongoing
Jem and the Holograms
comic, launching in March.
The series will be written by Kelly Thomson (
Storykiller, The Girl Who Would Be King
), with art by Ross Campbell (
Glory, TMNT
), and subscription covers by Sara Richard (
My Little Pony, Kitty and Dino
). The first issue will feature a deluxe collector box set with five rainbow foil covers: one for each band member by artist Amy Mebberson (
My Little Pony, Pocket Princesses
), plus a group cover by Ross Campbell. The second issue will also feature a box set of four covers by Mebberson and a group shot by Campbell , featuring the Misfits.
The property has been updated for the 21st Century, but will still feature Jerrica Benton as the gifted singer of The Holograms, a band poised to make it big. The only thing holding them back is Jerrica's crippling stage fright. But that will soon be remedied by a forgotten present left by her father.
IDW announced plans for the comic at the New York Comic Con (see "
'Jem' Gets a Date
"). A live-action Universal Pictures film adaptation of the 1980s animated show and toy line will premiere on October 23, 2015. The film will star Aubrey Peeples and is directed by Jon M. Chu.