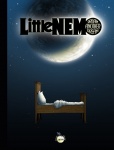 Little Nemo: Dream Another Dream HC
Publisher: Locust Moon Press
Release Date: November 26, 2014
Price: $124.99
Artists: Gerhard, Mark Buckingham, D'Isreali, Roger Petersen, Farel Dalrymple, et. al.
Format: 144 pgs., Full-Color/Black & White, 16"x21," Hardcover
ISBN: 978-0-9899-0769-9
Age Rating: All Ages
ICv2 Rating: 5 stars out of 5
Following a massive Kickstarter campaign that resulted in over 1,000 supporters contributing over $150,000 to produce this massive tome, Locust Moon Press has published the ultimate testament and tribute to cartoonist Winsor McCay's influence and genius with
Little Nemo: Dream Another Dream
.
The sheer scope and content of this book almost defy a complete or comprehensive review. With 125 artists contributing original, McCay-inspired drawings, discussing each and every interpretation would be nearly impossible and honestly be a disservice to the book as a complete volume.
What is truly fascinating about
Little Nemo: Dream Another Dream
is that unlike most modern comics or contemporary graphic novels, it is a true anthology. As such, readers can start anywhere they desire. If the small press, indie vibe of Farel Dalrymple, Fil Barlow, Box Brown, or Jim Rugg catches your eye, then begin there. If you are attracted to the designs of more mainstream illustrators such as Paolo Rivera, Cliff Chiang, Michael Allred, JG Jones, or J.H. Williams III,
Little Nemo
also provides fertile ground for exploration. Or, if the names Moritat, Paul Pope, Jill Thompson, Fabio Moon and Gabriel Ba, Roger Landridge, Bill Sienkiewicz, Camilla d'Errico, Peter Bagge, Ronald Wimberly, and a host of other iconic artists ring your bell, there is ample space for such diversity.
Beyond its weight and size, that is what makes
Little Nemo: Dream Another Dream
stand-out--from indie and small press to mainstream and beyond, McCay's impact has defied genre labeling and limitations, having touched the lives of comic artists and cartoonists for nearly 100 years. Add to that some letters by Todd Klein and colors by Dave Stewart and it would be hard to find a detractor for this volume.
Printed at the original newspaper broadsheet size of 16" x 21",
Little Nemo
is much more than the gimmicky efforts DC Comics attempted several years ago with its
Wednesday Comics
lineup. At this size, the art and storytelling are put front and center. Whereas some cartoonists decided to modernize the stories and opt out of McCay's original racialized caricatures, others have
Nemo
and his companions on the whirlwind, surreal adventures that harken back to McCay's original vision. Additionally, while some artists simply use the broadsheet as a canvas of panels on a straightforward grid system, others break the confines of the pages themselves, going completely panel-less or employing a truly innovative approach to design and layout. Ronald Wimberly's contribution really stands out for its singular image and the way the characters move and evolve through the page itself.
Like all good anthologies,
Little Nemo
not only spotlights the recognizable talents of some of the industry's finest illustrators, but also of cartoonists who may not be as well known to audiences. Here, Maelle Doliveux deserves mention for her truly original use of paper cutouts and deconstructed layouts, as does Bishakh Som for his M.C. Escher-inspired take, while others opt instead for nearly or completely silent tributes to McCay, relying solely on the power of their art in the absence of any text or dialogue.
All of the contributors bring their own distinctive vibe and style to McCay, resulting in more than simple pastiche and conveying how indebted modern comics still are to his wondrous, magnificent imagination.
--
Nathan Wilson