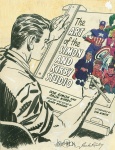 ICv2 recently sat down with Charles Kochman, Executive Editor of Abrams ComicArts, to talk about the company's plans. In Part 1 of our three-part interview, we discuss the recent release of The Art of Simon and Kirby Studio (see "Review: 'The Art of the Simon and Kirby Studio' HC"); in Part 2 we talk about upcoming releases for Spring 2015, including a graphic novel on Ayn Rand's effect on the world; and in Part 3, we talk about the company's Fall 2015 list, including a new book focusing on Charles Schulz as an artist, a follow-up to Derf Backderf's My Friend Dahmer, a Topps Star Wars trading card guide, and more.
Tell us about your recent release, The Art of the Simon and Kirby Studio.
That was a book that Joe Simon himself started. When Mark Evanier did
Kirby: King of Comics
(see "
Kirby Biography From Abrams in October
"), he [Simon] licensed us the rights to use the
Fighting American
story. When he was looking through the book he saw the
Fighting American
story and said we should do a whole book of just original art. This was before IDW or anyone was doing the Artist Editions. He showed me all this original art that he had. We talked about doing it the same size as the boards and he thought it should be smaller; it should be a reading book, "I want people to be able to actually go through it."
Had we come out at the time in 2009, we would have preceded all the IDW and Artist Editions stuff. It happened to be just at the time when
Wimpy Kid
took off. We pursued [the Simon and Kirby book] and did a contract and then I tabled it, unfortunately. In the interim, Joe passed away (see "
RIP Joe Simon
") and it was then waiting for the right time to ask the estate to move the book forward. That was kind of rough that Joe isn't around to see it. The book is all original art from his collection. Some of it was supplemented by Rand Hoppe at the Kirby Museum who lent us stuff. Mark Evanier acted as the editor selecting the material, writing the introduction and also the notes identifying where each and every piece is from. That's a $60 art book.
Who actually did the scanning of the original art?
All the scanning was done by a wonderful guy, Harry Mendrick, who was a friend of Joe's. Harry was doing all the restoration for the Titan books and Joe set up a meeting so I could meet him and talk about the Abrams book. Harry had already scanned a lot of it, but there were some bigger pieces he hadn't done because Titan hadn't planned, at the time, to do any of the reprints. We identified pieces that we wanted in the book that Joe thought we should definitely include.
I think a lot of the material in the book is unpublished. If they did two issues of a series and there was a third wound up in the can, some of that stuff wound up in other books and some of it was just sitting in a drawer, and we have some of the unpublished stories there. It's all off original art. Of the 384 pages, I would say at least a third of it was unpublished, and all of it unpublished in terms of seeing it in the original art [form]. Nobody has seen that before.
Jim Simon (Joe's son) wrote the afterword for the book and Evanier wrote the text. Between Evanier's intro and Jim Simon's afterword, and Evanier's notes, you really have the full context for all this. It feels really personal to both of them. Obviously for Jim, because of his dad, and for Mark because he knew Joe very well too and got to interview him before Joe died. He had all his notes from that interview to refer to.
Click here
for Part 2.