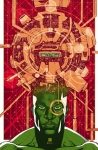 With the release of its March solicitations, DC has revealed that it will cancel 13 titles this spring, shipping the last issues in March before the two-month Convergence event that will cover the period of DC's move to California (see "
DC Announces Remaining 'Convergence' Titles
"). That removes a quarter of the DC Universe titles, clearing the decks for a major retooling of the line when the regular DCU titles return in June.
The titles represent a surprisingly wide range of sales, from
Star Spangled War Stories Featuring G.I. Zombie
, which sold only 7,546 copies in November, to
Green Lantern Corps
, which sold 34,109. The thirteen titles, with their November sell-in numbers to comic stores (see "
Top 300 Comics Actual--November
"), are:
34,109
Green Lantern Corps
30,907
Arkham Manor
25,654
Red Lanterns
21,377
Secret Origins
19,709
World's Finest
16,840
Swamp Thing
15,859
Aquaman and the Others
15,795
Batwoman
15,681
Green Lantern: New Guardians
15,097
Trinity of Sin
11,416
Klarion
9,350
Infinity Man and the Forever People
7,546
Star-Spangled War Stories Featuring G.I. Zombie