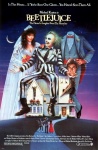 The long-discussed sequel to the 1988 PG-rated horror comedy
Beetlejuice,
is "closer than ever" in the words of director Tim Burton, who was recently interviewed by
ComingSoon.
It's been a year since the last news on plans for
Beetlejuice 2
(see "
Burton May Direct 'Beetlejuice 2'
"), when Burton was in talks to direct the sequel, which he is already attached to produce with David Geffen. While discussing his latest film
Big Eyes
, he was asked about Michael Keaton's recent film
Birdman
,
Beetlejuice 2,
and the actor's potential involvement.
"It's a character that I love and I miss and I miss actually working with Michael," Burton said. "There's only one Betelgeuse. We're working on a script and I think it's probably closer than ever and I'd love to work with him again."
In an interview with
MTV
,
Burton confirmed he's directing, and revealed that there is a part for Winona Ryder in the production. Keaton has indicated his willingness to do a sequel as long as Burton is involved, so that old gang could be coming together again.